There's an area in Mt Rainier National Park called Paradise, but if you've been there before, you know that the ENTIRE park is a paradise! Mt Rainier National Park in Washington State is one of the most beautiful places I have ever visited – a place that I've revisited in my daydreams over and over again. The snow-capped mountains, wildflower-filled meadows, endless trails with stunning views, the dreamy woodland forests… Mt Rainier is nothing short of a magical wonderland! The best part is that the beauty of the park can be enjoyed even if you have limited time, or if you simply prefer easy hikes (like me!). In this post, I'll share my recommendations for easy hikes at Mt Rainier with beautiful views that are perfect for a day trip or a one or two-day itinerary. I also think that these are some of the best photo spots in the park!
All photos were taken by me and my husband Ken. Photo gear details below!
p.s. I recently started a YouTube channel! Please give me a follow there if you love gardens, nature & flowers too. 🌸
* This blog post may include affiliate links. Learn more about my affiliate & cookies policy here. Thank you for supporting this flowery blog! 💛🌸🌿
Summary of Easy Hikes and Attractions WITH AMAZING VIEWS at Mt Rainier:
Reflection Lakes
Skyline Trail to Myrtle Falls
Paradise Area Trails west of Henry M. Jackson Visitor Center
Tipsoo Lake
Inspiration Point
Narada Falls
Silver Forest Trail to Emmons Vista
When is the Best Time to Visit Mt Rainier National Park?
The best time to visit Mt Rainier for beautiful scenery and nice weather is during the summer and fall. And if you'd like to see wildflowers, then summer is the best time! Wildflowers typically appear in late July through early August, and as the park website notes, snow can linger on trails well into June or even July. I have an entire post on the best places to see wildflowers at Mt Rainer!
Summer is also the most popular season, so be prepared for crowds during the weekends. Definitely try to visit during the weekday if that's possible! 10 am to 2 pm is the busiest time in the park, so I recommend that you get to the park before 9 am if possible. That's also the best time to see mountain reflections at Reflection Lakes!
Mt Rainier's Best Easy Hikes & Attractions
If you only have a day or a few hours in Mt Rainier, I recommend that you focus on the Paradise area of the park, where there are more than enough things to see and do for an entire afternoon or day! The following map shows the attractions and trails of the Paradise area. Reflection Lakes, the Skyline Trail, the Paradise Area Trails, Inspiration Point and Narada Falls are all located within the Paradise area!
Reflection Lakes
To me, Reflection Lakes in the Paradise area is the highlight and star attraction of the entire park. The picture-perfect views of a snow-capped Mt Rainier in the background with the lakes and wildflowers in the foreground is just breathtaking! Part of the Wonderland Trail runs right in front of the main lake and is great for exploring different viewpoints. There's parking right in front of the lakes, so if you're very short on time, this is a no-brainer stop!
The best time to visit is early in the morning when the lake waters are calm and you can see the mountain's reflections in the lake. The winds tend to be stronger in the afternoon and you may not see a reflection when the waters are disturbed. I also LOVE being here early in the mornings to see the morning mist lifting away and revealing the mountains and lake reflections!
These photos at Reflection Lakes were taken between 6:30-9:00 am.
In addition to admiring the main lake, I like to walk to the smaller lake to the right (east) of it for additional photo opportunities. There is a meadow in between them, and it's also very beautiful! Look carefully from the sidewalk and you'll find a small path leading through the meadow! My feature photo at the top of this post is from this area. I didn't realize there was a path until I saw a couple of photographers walking through the meadow (but I'm not sure if it's an official path or not!).
Skyline Trail to Myrtle Falls
Skyline Trail to Myrtle Falls is possibly the most beautiful paved trail in the world. It starts from the Henry M. Jackson Visitor Center and features stunning snow-capped mountain views, lush wildflower-filled meadows next to the paths and a beautiful waterfall – all within half a mile! It's literally a vision of paradise on earth. This hike is probably the best bang for the buck if you're short on time and can only do one hike. The entire Skyline Trail is 5.5 miles, but you can head back anytime you like.
Paradise Area Trails
While the Skyline Trail is the most popular trail in the Paradise area, there are several other less visited ones to the west of the Visitor's Center that are also amazing, with stunning mountain views and dense wildflower fields in July! As you can see from the map, there are several short inter-connected trails in this area in addition to trails that connect with the longer Skyline Trail. My favorite is an area along the Dead Horse Trail that goes through a wooded area with a stream, with snow-capped mountain views, and lots of wildlife! Please note that parts of these trails are a bit steep.
Tipsoo Lake
Tipsoo Lake is a very pretty lake with scenic views and summer wildflowers located northeast of the Paradise area. You can enjoy a mostly level walk around the lake from a trail and the surrounding meadows that starts right next to the parking lot. If you have more time, the moderate 3.5-mile Naches Peak Loop Trail has higher up views of the mountain and takes around 1.5-2 hrs to complete.
Inspiration Point
This pullout just off of Stevens Canyon Road offers sweeping views of Mount Rainier and the Tatoosh Range. It's right off the road between the drive from Reflection Lakes and Narada Falls!
Narada Falls
This beautiful waterfall is only a 7-minute drive from the Visitor's Center, or 6 minutes from Reflection Lakes! The path to the base of the waterfall is only 0.2-mile, but it's a somewhat steep 200-foot descent/ascent. When you get to the base, you'll be fairly close to the waterfall. If you're lucky as we were, you'll see a pretty rainbow right across the waterfall!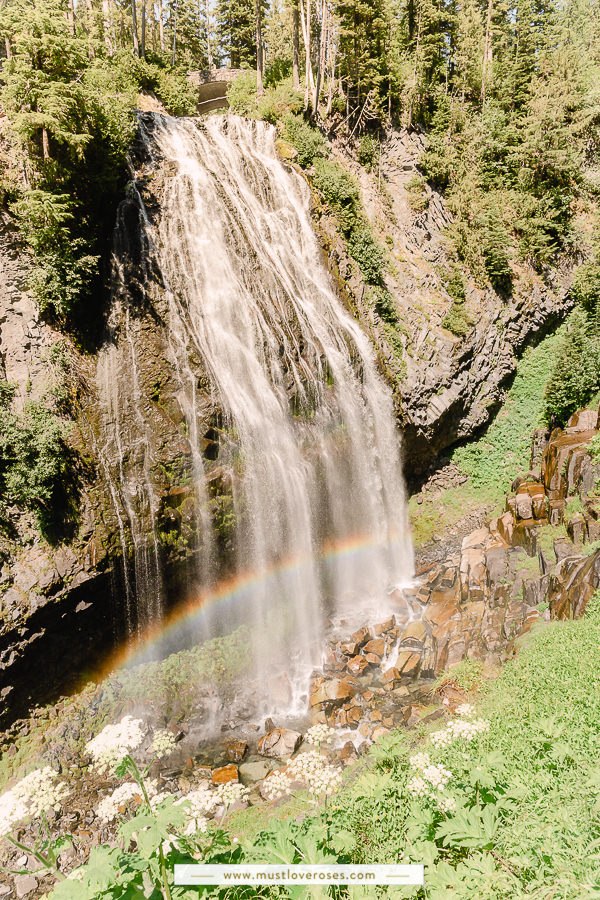 Silver Forest Trail to Emmons Vista Overlook
The Sunrise area is well known for having spectacular mountain-top views and amazing hikes. However, getting to the Sunrise Visitor's Center takes around 1.5 hrs from the Henry M. Jackson Visitor's Center, so I would only recommend going there if you have more than one day at the park, or if you've been there before and have already seen the other amazing sights in the Paradise area.
If you do have time to drive to the Sunrise area for a short hike, then I recommend the Silver Forest Trail to Emmons Vista. The trailhead is located just south of the Sunrise Visitor's Center parking lot. You can follow the Sunrise Rim Trail, then head east on the Silver Forest Trail. The Emmons Vista Overlook is just a short distance from there.
From the Emmons Vista Overlook, you can see Emmons Glacier, Mt Rainier, and a beautiful valley. If you continue on the Silver Forest Trail, you can enjoy more stunning views of Mt Rainier as you hike along meadows and tall trees.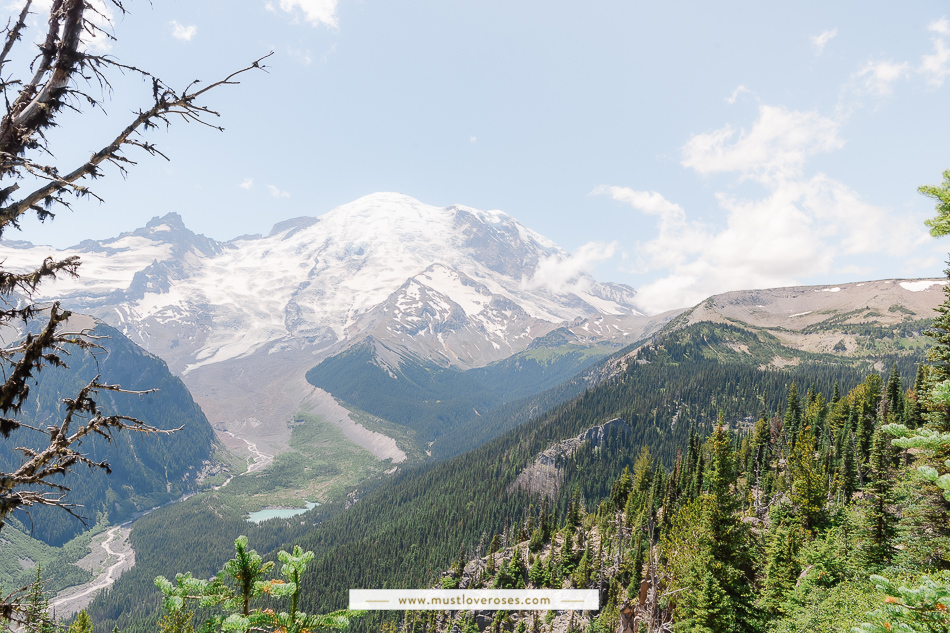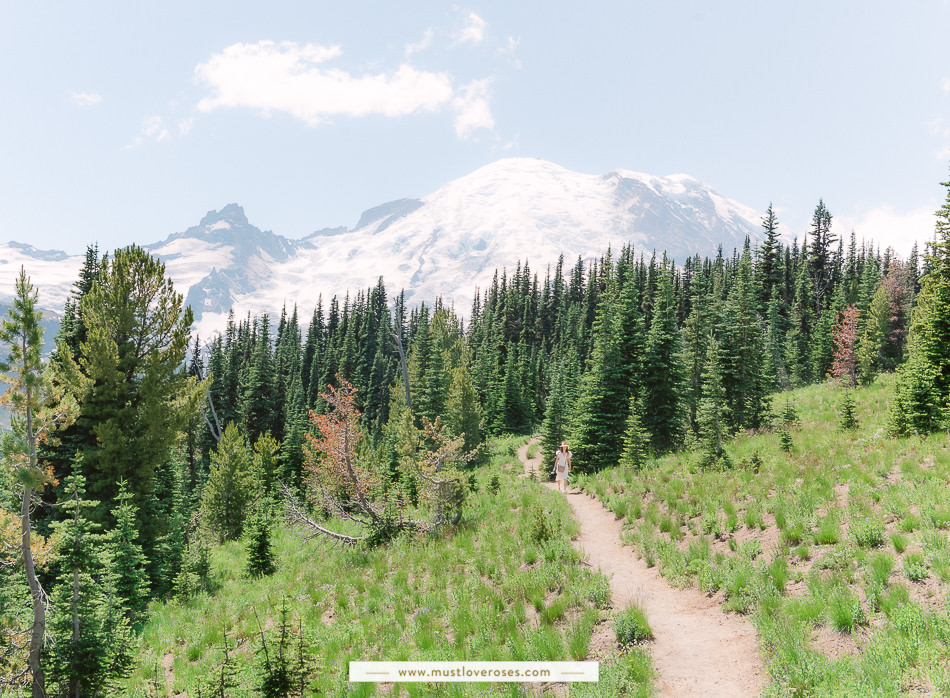 Wildflowers in Mt Rainier
If you love wildflowers like I do, you'll want to visit Mt Rainier in the summer! I have a whole post on where to see wildflowers in Mt Rainier!
My New YouTube Channel!
I recently started a new YouTube channel! If you love nature, flowers and gardens as much as I do, make sure to give me a follow there! 💛 I've included one of my videos below. 😊🌸🌿
Step Inside a Fairytale Rose Garden!
This secret rose garden is full of blooming roses, rose terraces, rose walls, rose pillars, and even a rose-covered gazebo straight out of a fairytale! 🌸
It's my first video for YouTube – I hope you like it! 🙂
Mt Rainier Day Trip or One-Day Itinerary
Here's my recommended itinerary for a day trip or a one-day trip to Mt Rainier, assuming that you're entering the park from the Nisqually Entrance on the western side of the park, or that you stayed overnight at the Paradise Inn. I've included recommended times to budget for these locations assuming you want to spend some time taking pictures there!
Reflection Lakes – head here first thing in the morning if possible. Seeing the morning mist lifting from the mountain is so special. You'll encounter less crowds and also increase your chances of seeing the Mt Rainier reflection in the lakes because the water tends to be calmer in the morning. Make sure to walk around both lakes and the meadow in between for different views and photo opportunities! 1 to 1.5 hours.
Henry M. Jackson Visitor's Center – head here for maps, snacks, bathrooms, park updates, ranger advice and wifi. 20 mins.
Skyline Trail to Myrtle Falls – this one-mile round-trip trail starts just north of the Visitor's Center. You can do this hike in less than one hour round trip, but I highly recommend that you take your time to soak it all in and take lots of pictures here! 1 to 1.5 hours.
Lunch at the Tatoosh Café inside Paradise Inn – this café inside the Paradise Inn has grab and go sandwiches and salads that you can eat at the outdoor patio while enjoying the stunning views! This café is right next to the Skyline Trail! 1 hr.
Paradise Trails – pick one or several of the short but beautiful trails west of the Visitor Center. 1.5 to 2.5 hrs.
Inspiration Point – an easy lookout point close to the Visitor's Center. 15-20 mins.
(optional) Narada Falls – if you still have time after visiting all the areas listed above, this waterfall close to the Visitor's Center is very pretty, but the path down (and back up) is somewhat steep. 40 mins.
Dinner at the Paradise Inn Dining Room – if possible, enjoy a sit-down dinner at this beautiful dining hall. Please check their website for opening hours and whether reservations are required. 1 to 1.5 hours.
Sunset walk along Skyline Trail – the sunset colors here are so beautiful and worth a second hike! The best thing is that the trail is right outside Paradise Inn! 30 mins to one hour.
🌸 My favorite flower books 🌸
Mt Rainier Travel Tips
1. Check Current Park Alerts & Conditions
Before you head for Mount Rainier, make sure to check the current park alerts & conditions at the park's website. The park website also has a useful page on the wildflowers bloom status and what's currently in bloom.
2. Stay at the Paradise Inn!
I highly recommend staying at Paradise Inn inside the Park. It's only a few minutes from the Henry M. Jackson Visitor Center and the location right next to the Paradise trails can't be beat! It's only a few minutes drive to Reflection Lakes and several waterfalls. In addition, their restaurant and café are quite good – much better than the grab and go options at the Visitor Center. Another bonus is their parking lot for guests, which is so convenient when the Visitor Center parking lot fills up!
Booking a room at the hotel can be hard, but check back for cancellations 1-2 weeks before your trip. That's how we managed to book a room for 3 nights!
3. Visit During the Weekday if Possible
Mount Rainier is very popular during the summers, especially on weekends. Visiting during the weekdays is definitely better, otherwise you may encounter a long line at the entrance and full parking lots at visitor centers. The park is busiest from 10 am – 2 pm, so I recommended arriving between 8-9:00 am to avoid crowds, or even earlier for the best morning views at Reflection Lakes!
4. There's No Cell Service!
There is extremely limited cellular phone service throughout the park, so be prepared to not have cell signal while you're inside the park. Wifi is available at the Henry M. Jackson Visitor Center.
5. Plan For Both Hot & Cool Weather
Summer weather at Mount Rainier can be unpredictable and all over the place. The park is known for fog that can sometimes stay around and hide mountain views all day. Or it can start off cool in the morning but become too hot for hiking by late morning, which we did experience before. Be ready with both warm and cool weather clothing as it can get quite cool in the evenings. I was happy to have brought a puffer jacket for evening walks. It's best to be flexible with alternate plans in case of unexpected weather.
6. Beware of the Mosquitoes!!
It really is a paradise at Mount Rainier in the summer, but apparently the mosquitoes love this place too! The key is to apply mosquito repellent OFTEN – at least every two hours. (I recently started using Repel insect repellent made with lemon eucalyptus oil and it's been effective for me!) I recommend that you reapply every time you go near a body of water, such as Reflection Lakes or Tipsoo Lake, regardless of when you last applied it. Even with repellent though, you won't be able to keep them all away, so make sure to bring lots of anti-itch cream! Wearing long-sleeved tops or jackets and long pants will also help, especially the wind-resistant type.
Having a slip-over mesh screen for your rear car seat windows is also useful if you want to leave your window open for air but don't want to let the mosquitoes in. It's also great for blocking the heat during hot days. I recently used one for another road trip through the Pacific Northwest and loved it SO much for blocking the hot sun in the back seat!
7. A plug-in electric cooler is great for road trips. We use a plug-in electric cooler for all of our summer road trips to keep food and drinks cold so that we don't have to stop and look for food in between destinations.
My current favorites from Amazon! 💛🌸🧡
My camera & video gear
Photo tip: You can get a free trial or extend your current subscription of an Adobe Creative Cloud Photography Plan with the purchase of a Seagate external hard drive!
Most of the photos on this blog through 2022 were taken with a Nikon D750 (latest model D780 shown above).
My favorite lens ever. This Nikon 105mm lens is amazing for portrait & flower photography. An 85mm lens would be great also.
Thank You!
Thank you for stopping by my blog! I hope you found this post useful, and I hope you have a wonderful day!
Pansy ❤️
Hi, I'm Pansy!
Hello, thanks for stopping by! I'm Pansy, California-based travel blogger, photographer and lover of ALL the pretty flowers! You may notice that most of my travels, photography & DIY center around flowers and nature! 🌸🌼🌿
I recently started a YouTube channel where I feature walks through beautiful gardens, parks & flower fields! Make sure to follow me there if you love flowers & gardens! 😊
If you'd like to contact me, please send me an email or DM me on Instagram!
Pansy ❤️