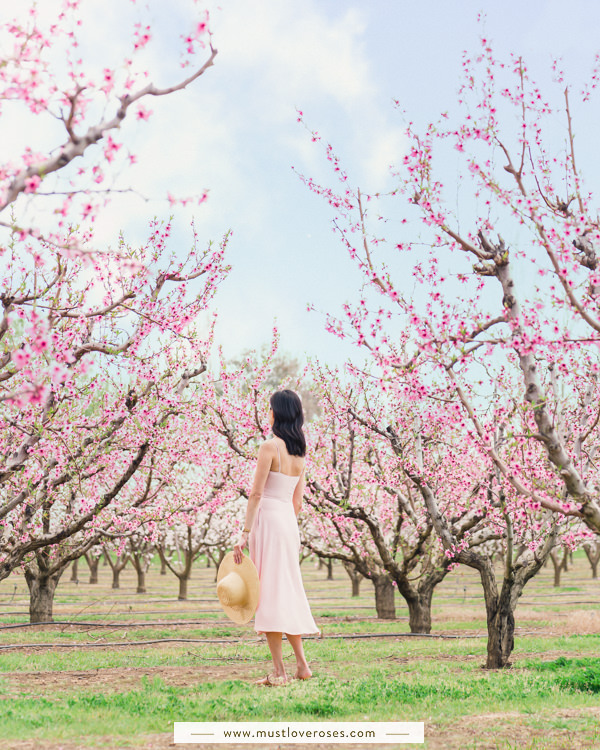 One of the best things about Spring has to be all the beautiful flowers that bloom during the season. I love the cherry blossoms that are found all over Japan, but I wondered if there are any similar Spring pink blossoms in California? I thought I was out of luck, until I discovered that there are, in fact, peach orchards with equally beautiful pink blossoms right here in California, even some in the Bay Area! They are a truly spectacular sight that's among the most beautiful I've ever seen – a sea of beautiful pink Spring blossoms right here in the Bay Area, just as spectacular as any flower field, and just as beautiful as cherry blossoms!
* This blog post may include affiliate links. Learn more about my affiliate & cookies policy here. Thank you for supporting this flowery blog! 💛🌸🌿
Peach Blossoms Bloom Time
Peach blossoms typically bloom starting the beginning of March, although bloom times will vary each year. These pictures were taken in mid-March and they were spectacular! Peach blossoms bloom just after the famed white almond blossoms, which typically bloom mid-February for just a few weeks. (Almond blossoms can be found in Fresno County, Dixon, Woodland and Manteca.)
Where to Find Peach Blossoms in California
A great place in California to find peach blossoms, along with many other beautiful fruit blossoms, is along the Fresno County Blossom Trail. This 62-mile loop southeast of Fresno in Central California comes alive with wonderfully fragrant fruit tree blossoms in the Spring, followed by luscious fruit in the Summer. Other types of blossoms you'll find along this trail are: almond, plum, apricot and apple, which have white blossoms, and nectarine blossoms, which are also pink.
The Fresno County Blossom Trail website has a map of the self-guided tour, along with user-submitted updates. The Visit California website has suggested stops along the trail, including a model Western town inside a barn complete with saloon, church, barber shop, and schoolhouse!
As the Blossom Trail website notes, "Orchards along the Blossom Trail are private property, not open to public access. Visitors can view and photograph the blossoms safely from the shoulder of the road. Make sure all vehicles are pulled completely off of the road."
Fun Fact: Fresno County is the most agriculturally rich county in the United States!
Peach Blossoms at
the Orchards of Brentwood, California
Closer to the Bay Area is the city of Brentwood, a mixed residential and farming community in the East Bay with a ton of U-Pick and pre-picked orchards. It's located about an hour's drive east of San Francisco. The farms there produce delicious peaches, plums, apricots, cherries, nectarines, pears, apples, figs, walnut, corn and much more! We have been there for summer fruit picking before, but never for Spring blossoms until now!
As you drive around the city, you'll likely start to see fruit blossoms at these orchards if you visit in early to mid-March. Please note, these orchards are private properties, so if you're planning on visiting, please be respectful and make sure to follow the instructions on any signs you see there. I also encourage you to call ahead to check on their current visitor policy. The Harvest Time in Brentwood website has information on local U-Pick farms and orchards along with contact information.
A Sea of Pink and White Blossoms
It was a beautiful sunny day when we visited this peach orchard in mid-March, and a sea of bright pink peach blossoms were spread out as far as our eyes could see. I was in pink flower heaven! There were also some white plum blossoms next to the peaches that added a pretty cloud-like effect. What a beautiful piece of heaven!
I was super happy to have found these Springtime peach blossoms in the Bay Area. I encourage you to see if there are any U-Pick orchards close to where you live that don't mind people visiting. Not only are orchards beautiful places to visit, but you can also come home with some fresh-picked fruit later in the season. What can be better than fresh-picked fruit from local farms?
By the way, if you love flowers as much as I do, you might be interested in my post on the Most Beautiful Flower Books – it's one of my most popular posts!
I also have a post on where to find cherry blossoms in the Bay Area that you may be interested in!
---
Outfit Details
Dress by Reformation | Similar straw hat at Nordstrom | J. Crew straw bag, current style here. Very cute option at Nordstrom.
---
Photography Details
Most of the photos in this post were captured with a Nikon D750 (new model D850 here) using my favorite lens, a 105mm lens. The aperture ranged from 3.5 to 6.3. The orchard photo was captured with an iPhone. I have an entire post on the best lenses for flower photography that you may be interested in!
California Spring Travel
If you're looking for more California Spring travel ideas, check out my posts on the Most Beautiful Spots in Big Sur, the Purple Ice Plants of the Monterey Peninsula, the spectacular Flower Fields of Carlsbad Ranch, and the Poppy Fields of Mt Diablo State Park!
All of my California travel posts are here!
My current favorites from Amazon! 💛🌸🧡
Thank You!
Thank you for stopping by my blog! I hope you found this post useful, and I hope you have a wonderful day!
Pansy ❤️
Hi, I'm Pansy!
Hello, thanks for stopping by! I'm Pansy, California-based travel blogger, photographer and lover of ALL the pretty flowers! You may notice that most of my travels, photography & DIY center around flowers and nature! 🌸🌼🌿
I recently started a YouTube channel where I feature walks through beautiful gardens, parks & flower fields! Make sure to follow me there if you love flowers & gardens! 😊
If you'd like to contact me, please send me an email or DM me on Instagram!
Pansy ❤️