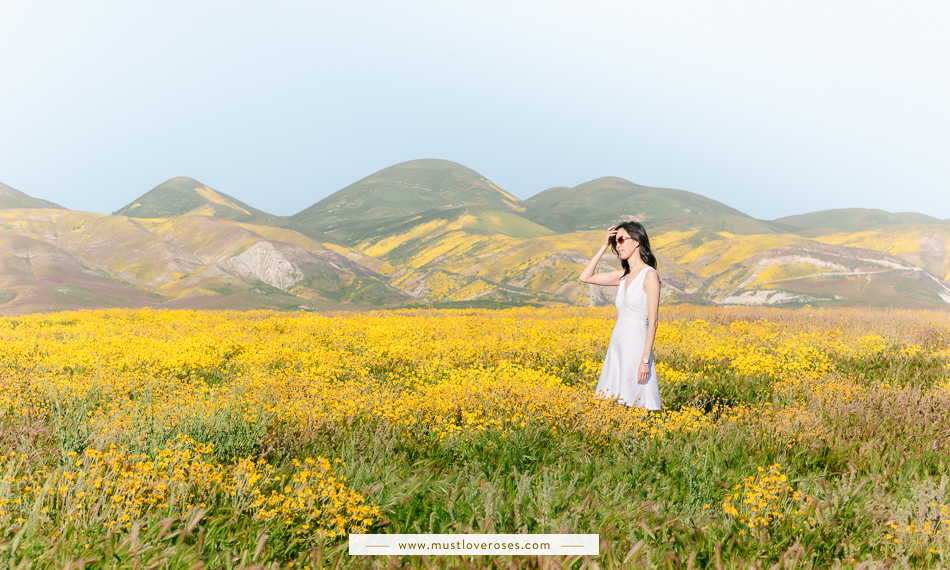 Seeing the wildflowers Superbloom at the Carrizo Plain National Monument in 2017 was so amazing that I'm not sure anything else can compare… it was the first stop of our 2017 California Superbloom road trip, which included a trip to see the poppy fields at Antelope Valley also. After seeing pictures of fields and mountains covered with wildflowers at Carrizo Plain in Southern California, we knew that we had to make a stop on our way, even though the area is quite remote. Although it was near the end of the season in April, it did not disappoint, as we were treated to stunning views of VAST fields and mountains literally covered with wildflowers. The yellow and bright orange colors contrasted vividly with the deep blue waters of Soda Lake, while white and purple wildflower patches peeked through along our walks and hike. There is nothing more beautiful than nature's glorious palette! I'll share some photos we took during this trip and also information on photo locations.
Please note – a Superbloom doesn't happen every year! Please check the Carrizo Plain wildflower hotline for updates if you're planning on visiting, or visit the Carrizo Plain website. The Desert USA website also has wildflower updates for the area.
* This blog post may include affiliate links for which I may receive a small compensation. Learn more about my affiliate & cookies policy here. Thank you for supporting this flowery blog! 💛🌸🌿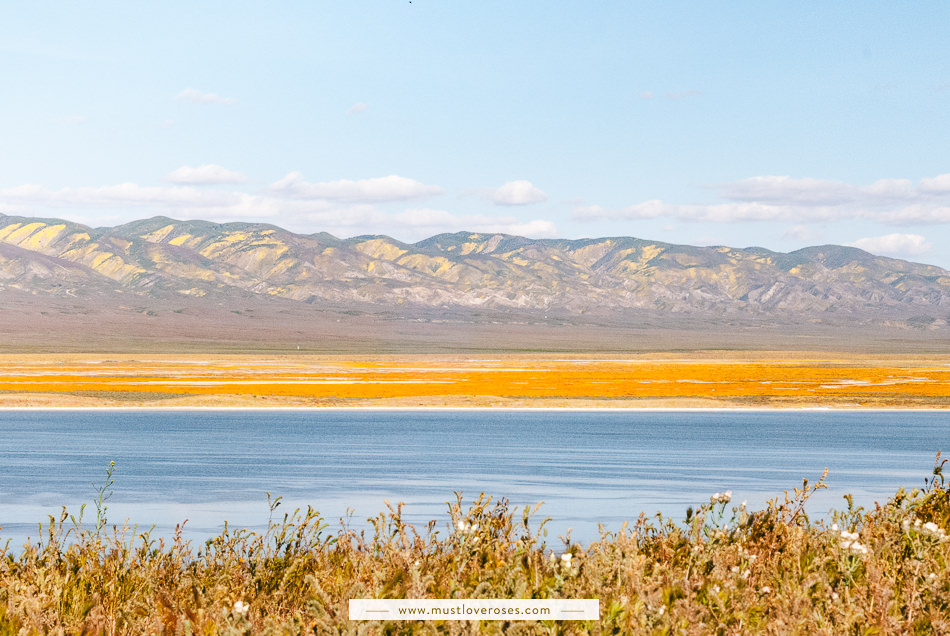 What is a Superbloom?
According to Wikipedia, "A superbloom is a rare desert botanical phenomenon in which an unusually high proportion of wildflowers whose seeds have lain dormant in desert soil germinate and blossom at roughly the same time. The phenomenon is associated with an unusually wet rainy season."
A Superbloom of Spring wildflowers in California happens rarely, only after a particularly wet winter, and usually in the desert areas near San Diego and Walker Canyon / Lake Elsinore. This year (2017), however, the Superbloom spread north, to the remote Carrizo Plain, and to the Antelope Valley California Poppy Reserve and surrounding areas. These areas were literally covered with bright orange, yellow, white and purple wildflowers as in a flower-covered world!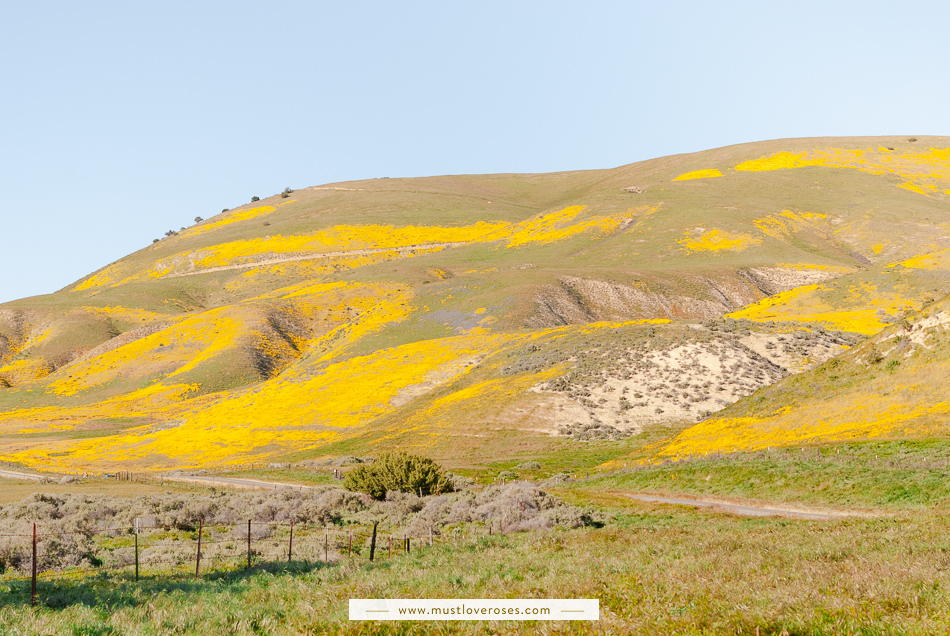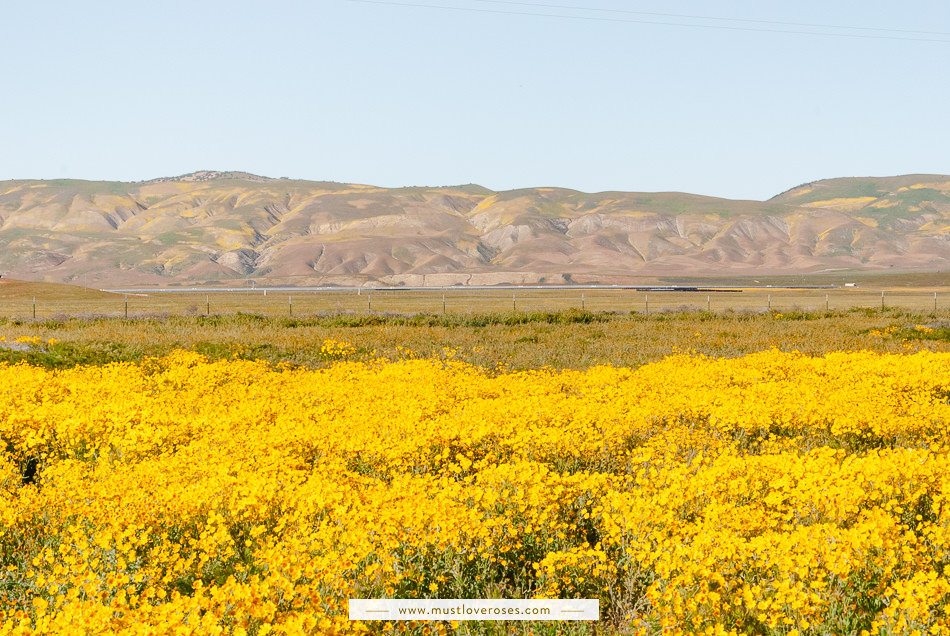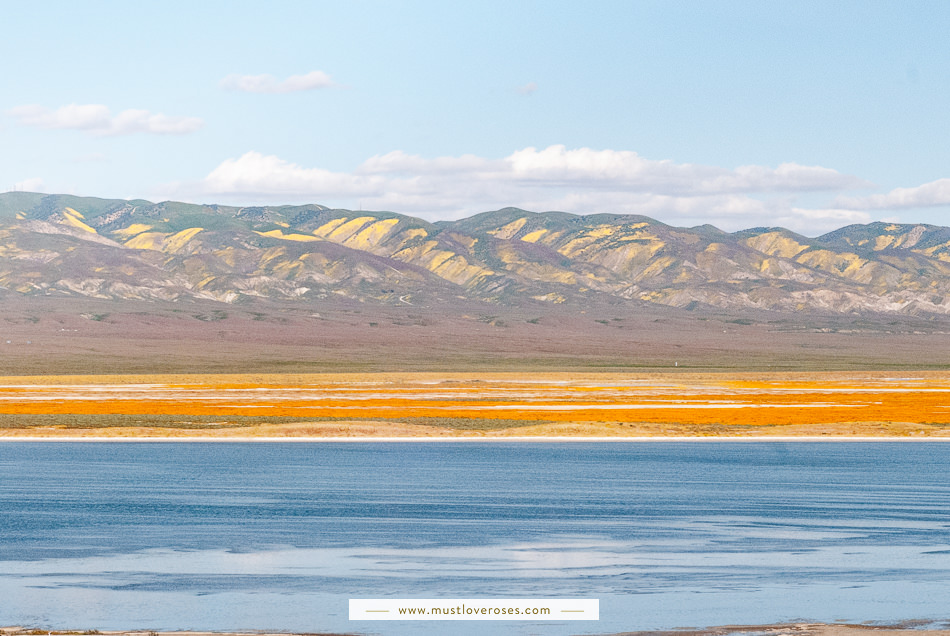 Where is the Carrizo Plain Monument?
The Carrizo Plain National Monument is located about 170 miles northwest of Los Angeles between San Luis Obispo and Bakersfield. It's a vast and remote area that came alive with wildflowers this year due to the unusually wet winter after a long drought.
As we drove south on US-101, we turned onto CA-58, then took the Soda Lake Rd exit. It took us about 4.5 hrs to drive there from the San Francisco Bay Area.
Carrizo Plain Wildflower Photo Locations
These photos were captured from several different locations: in fields just outside the national monument along 7 Mile Road, at the Soda Lake overlook inside the monument, and from along a path up one of the mountain ranges. As we approached the Soda Lake overlook from Soda Lake Road, we began to see fields of wildflowers near the intersection with 7 Mile Rd. We got out and spent almost an hour taking pictures from that area! (we walked and drove east along 7 Mile Rd.)
After we visited the stunning Soda Lake overlook, we decided to head up one of the trails off of 7 Mile Rd for a closer-up view of the yellow hillside wildflowers and were able to catch a beautiful sunset on the way down.
We are so happy to have witnessed this rare Superbloom in California! I hope you enjoy these pictures! For more pictures of the wildflowers at the national monument, see the Bureau of Land Management's Flickr's album.
My New YouTube Channel!
I recently started a new YouTube channel! If you love nature, flowers and gardens as much as I do, make sure to give me a follow there! 😊🌸🌿
Step Inside a Fairytale Rose Garden!
This secret rose garden is full of blooming roses, rose terraces, rose walls, rose pillars, and even a rose-covered gazebo straight out of a fairytale! 🌸
It's my first video for YouTube – I hope you like it! 🙂
My Holiday Gift Picks!
I own and love all of these products! ❤️
Thank You!
Thank you for stopping by my blog! I hope you found this post useful, and I hope you have a wonderful day!
Pansy ❤️
Hi, I'm Pansy!
Hello, thanks for stopping by! I'm Pansy, California-based travel blogger, photographer and lover of ALL the pretty flowers! You may notice that most of my travels, photography & DIY center around flowers and nature! 🌸🌼🌿
I recently started a YouTube channel where I feature walks through beautiful gardens, parks & flower fields! Make sure to follow me there if you love flowers & gardens! 😊
If you'd like to contact me, please send me an email or DM me on Instagram!
Pansy ❤️