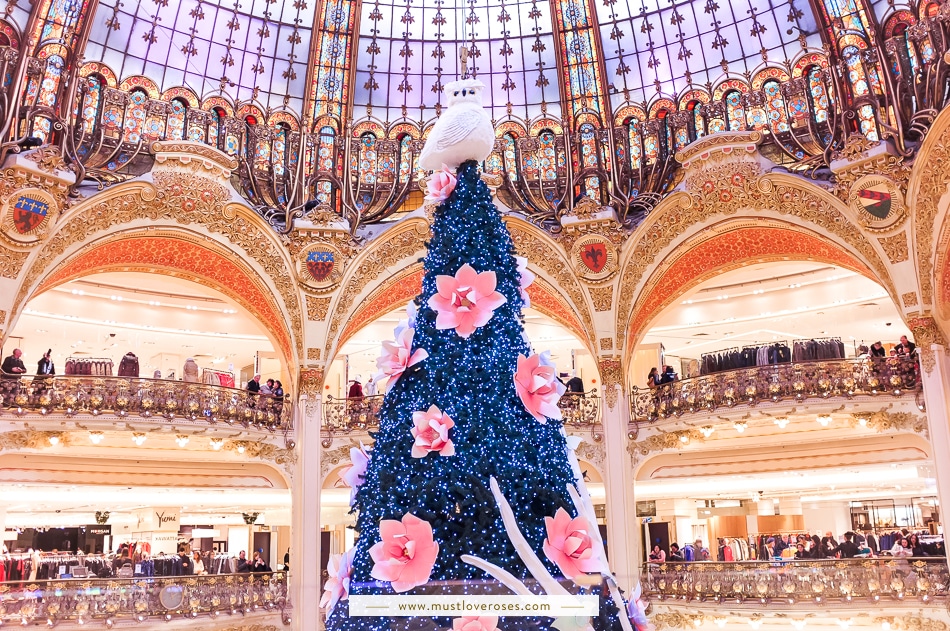 Christmas in Paris… a more magical experience than I ever imagined… the most beautiful sights in the most beautiful city! I think we can all agree that Paris is a dream destination any time of the year, but Christmas is a particularly magical time to visit! With amazing decorations and street markets throughout the city, and the most delicious and beautiful seasonal food, Paris is truly an incomparable Christmas time experience. Having visited Paris several times, including during Christmas, I have to say that it's my favorite time of the year to visit, and I frequently long to visit again in December! Here are my picks for the 5 BEST things about Christmas in Paris, beginning mid-November to the end of the year.
* This blog post may include affiliate links for which I may receive a small compensation. Learn more about my affiliate & cookies policy here. Thank you for supporting this flowery blog! 💛🌸🌿
1. Delightful Christmas Decorations
Definitely one of the BEST things about Christmas in Paris is that Christmas decorations are EVERYWHERE!! The entire city is decorated, festive and oh so pretty! You'll feel like you've stepped into a highly decorated storybook land.
Some areas that should not be missed for their Christmas decorations:
Place Vendôme (you might be lucky and see a horse-drawn carriage there bearing blue gift boxes in front of Tiffany's like I did!)
Avenue des Champs-Elysées – so many festive storefronts!
Avenue Montaigne
Galerie Vivienne
Village Royal
The department stores on Avenue Haussmann including Galeries Lafayette and Printemps (see pics below)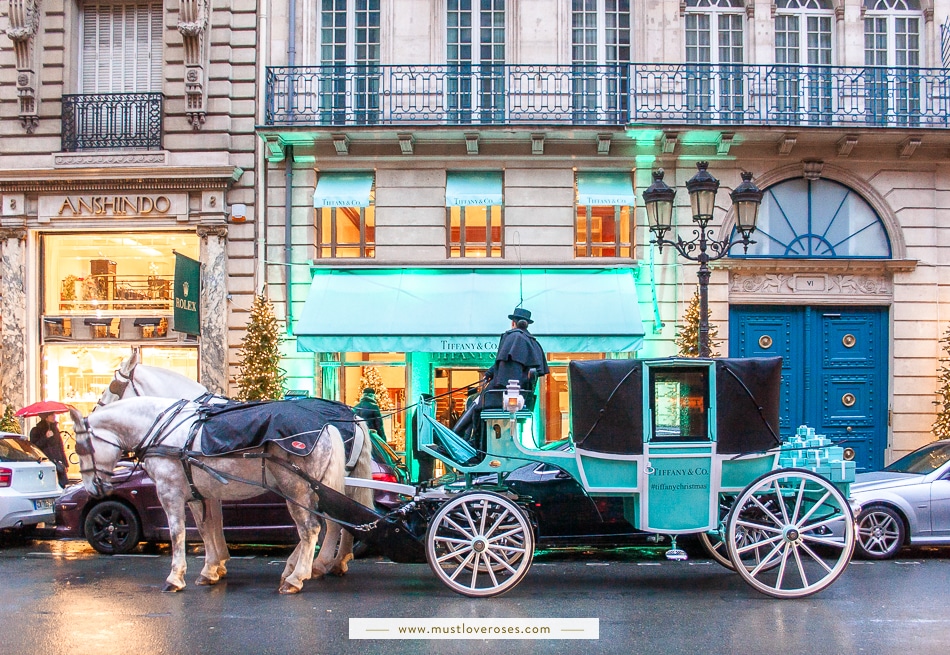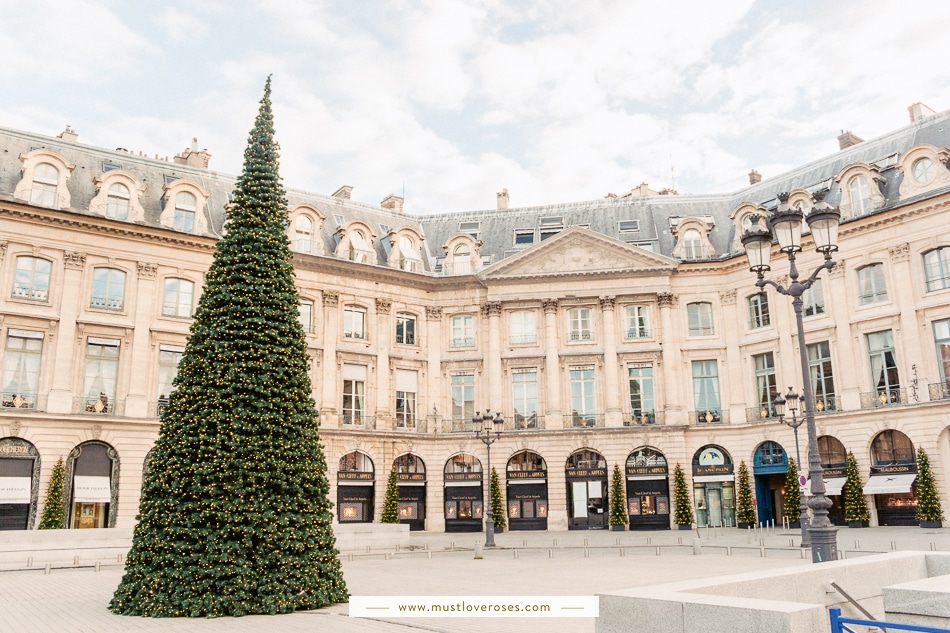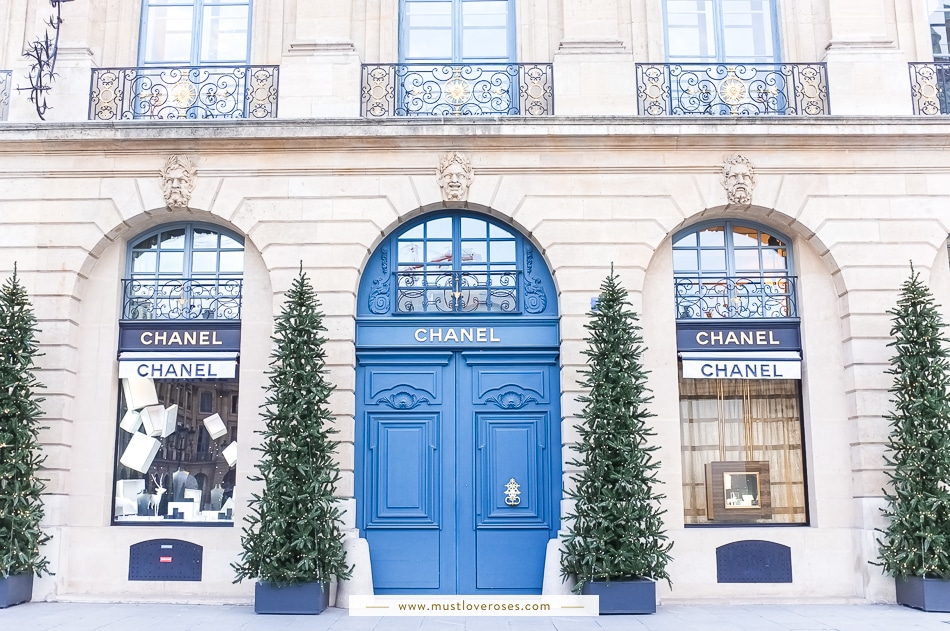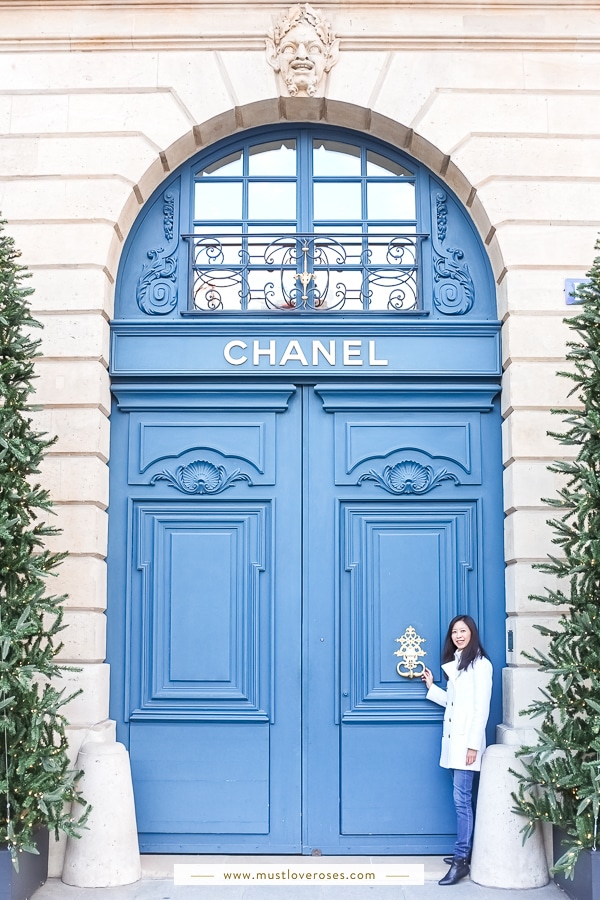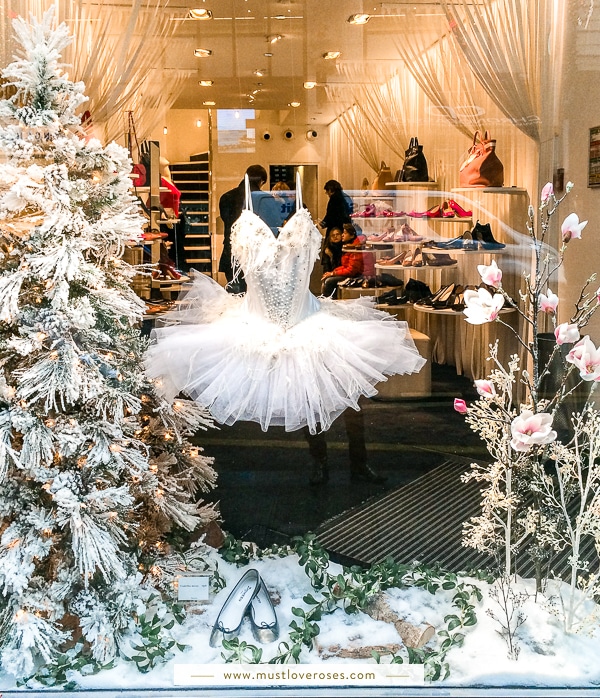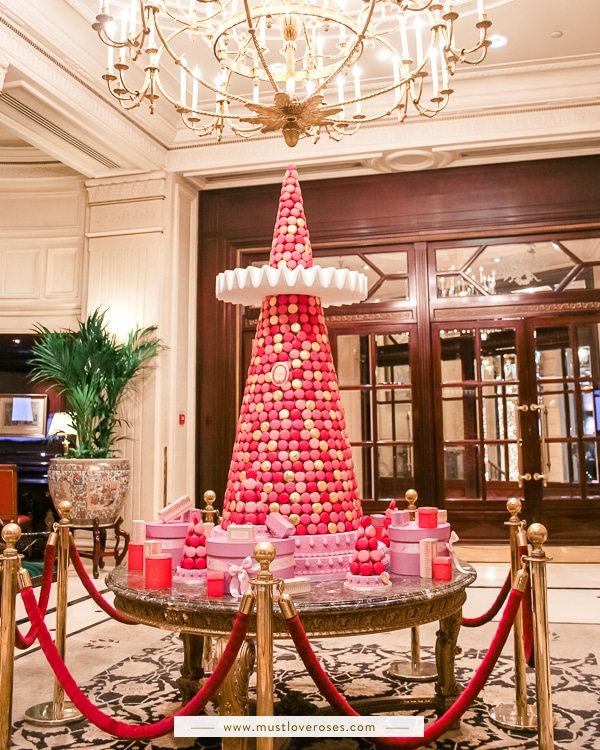 2. Lots of Christmas Markets
There are 15-20 Paris Christmas Markets across the city, so you'll be sure to run into at least a few of them on a daily basis! You can enjoy crepes, hot mulled wine, roasted chestnuts, colorful macarons and all sorts of regional food specialties while enjoying the festive booths and decorations complete with life-sized Santas and reindeers! Ken and I loved all of them!!
A few of the larger ones are at the Tuileries, Les Halles, across from the Notre-Dame, and the Christmas Village at La Défense. The Paris Visitor's Bureau has a full list of the Christmas Markets in the city.
Some Christmas markets specialize in arts and artisan crafts made in France, so it's a great opportunity for gift shopping as well!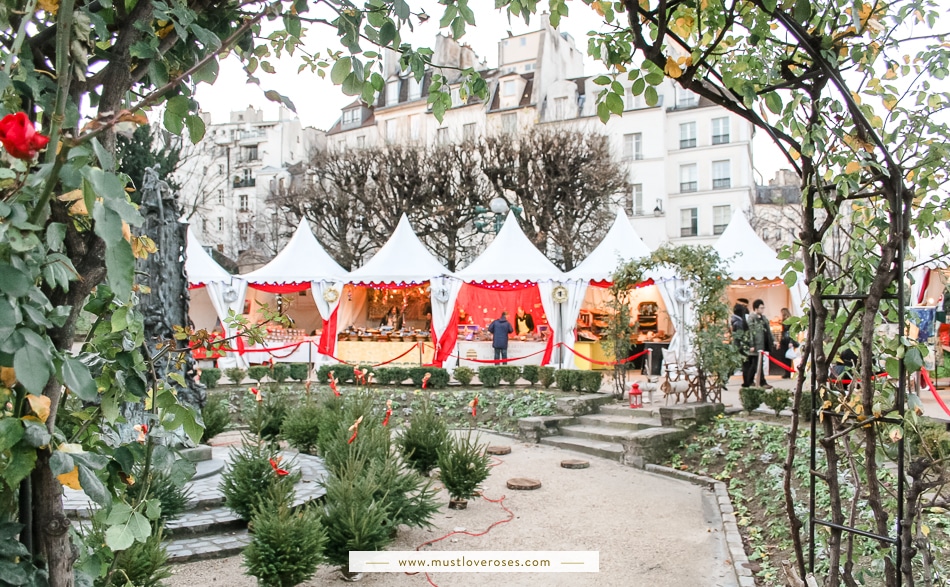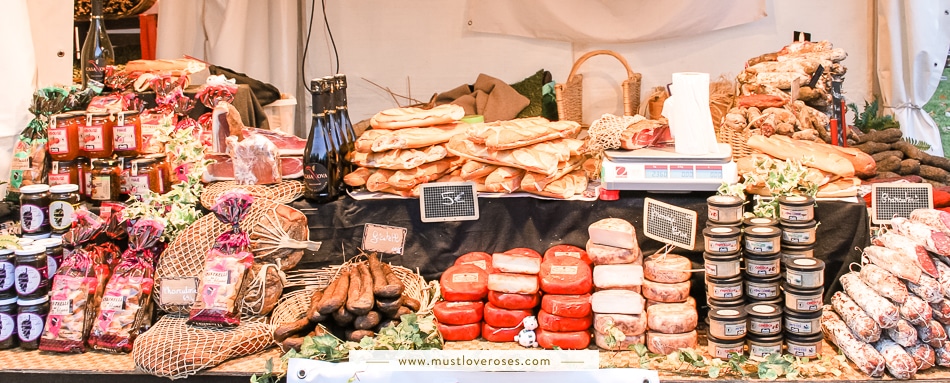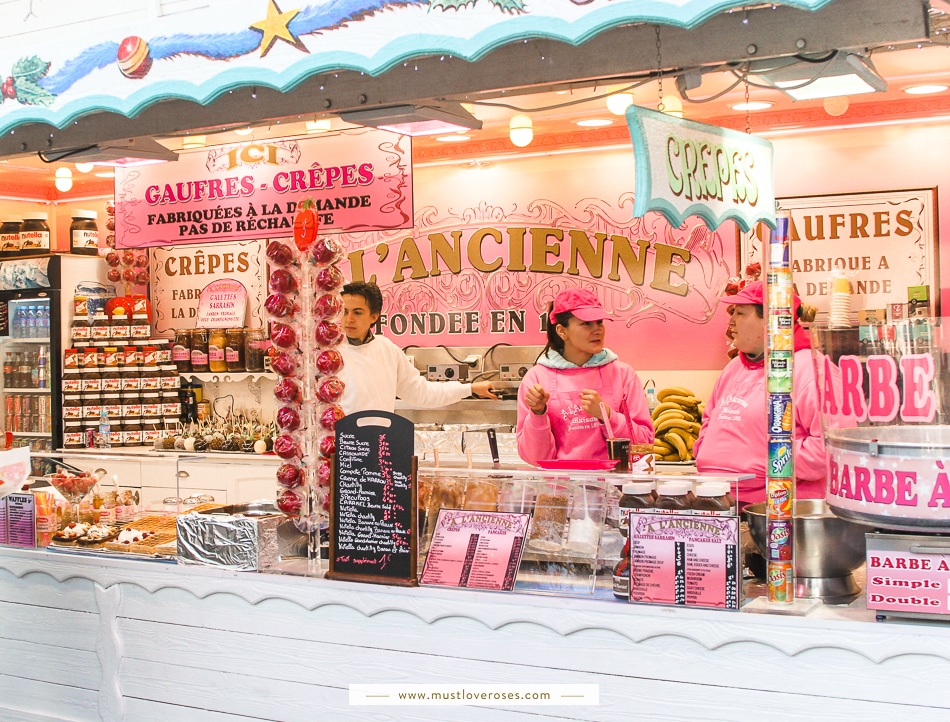 3. Galeries Lafayette Department Store Decorations
The decorations at the Galeries Lafayette department store on Boulevard Haussmann are so amazing that they deserve their own category. The entire building, already beautiful on a regular day, is transformed into a wondrous display like no other. It's like walking through a sparkly magical most beautiful fairytale setting. The Christmas tree inside, which soars up towards the magnificent glass dome, has a different theme every year and it never fails to be spectacular.
Equally spectacular are the window displays on the street level of the store, which are best seen at night when they are lit up. Each display is an elaborate work of art and wonder, with unique themes and settings full of animated characters doing the most adorable and cutest things, full of personality and mischief. Make sure to catch the equally amazing window displays at the Printemps department store down the street also. We easily spent over two hours just looking at these window displays!
I'm going to go so far as to say that the displays at Galeries Lafayette alone are worth a visit to Paris in December!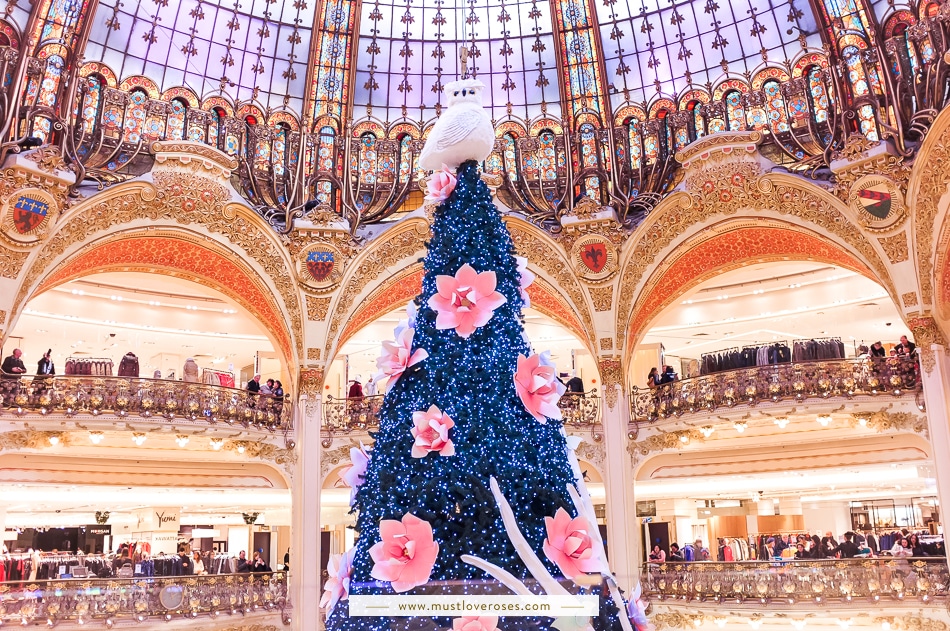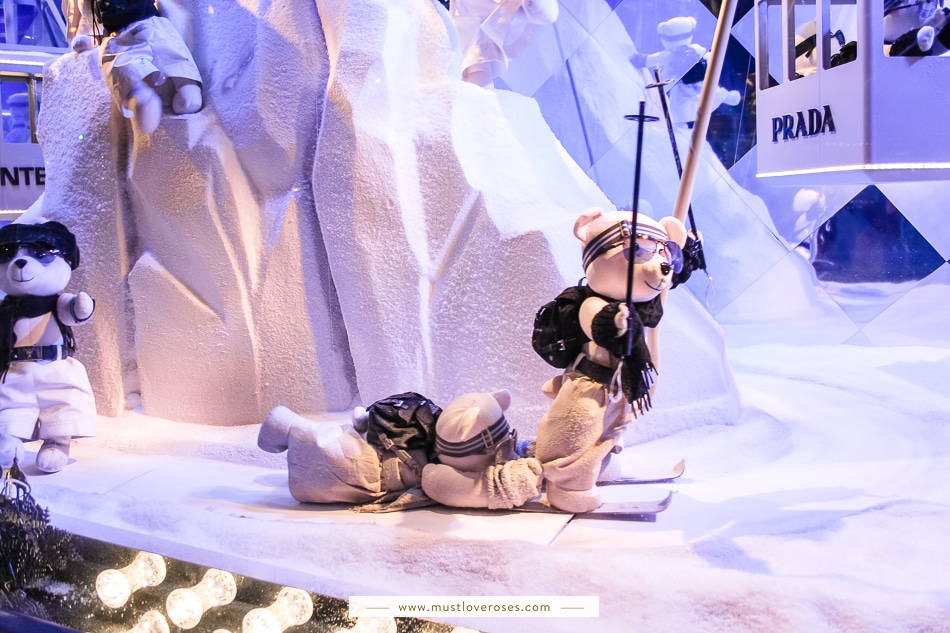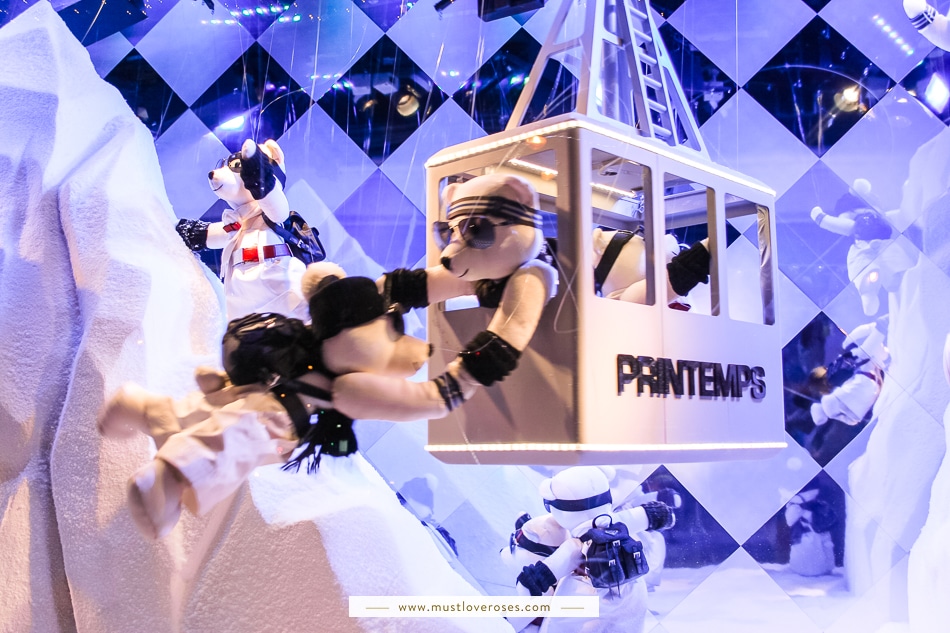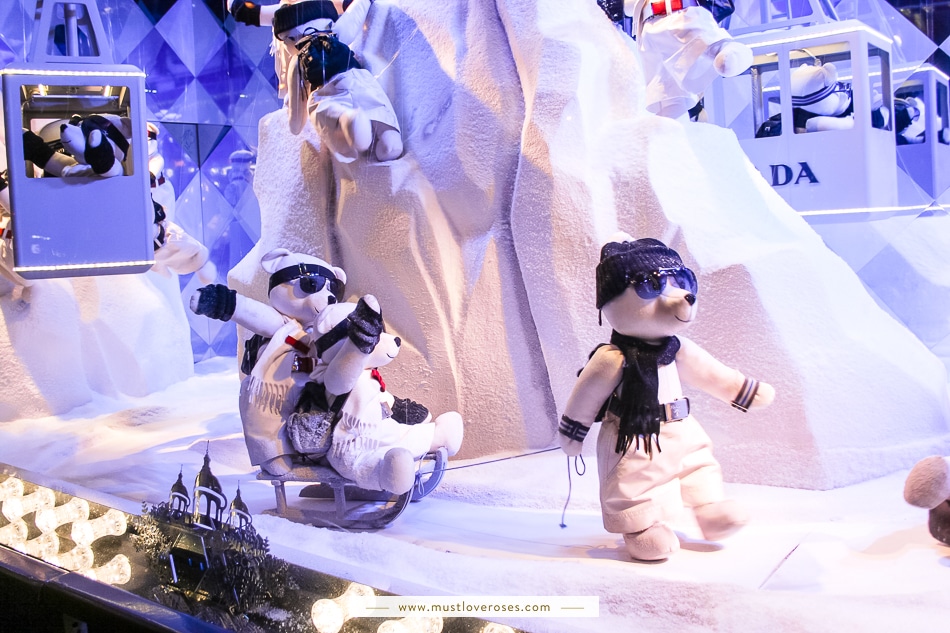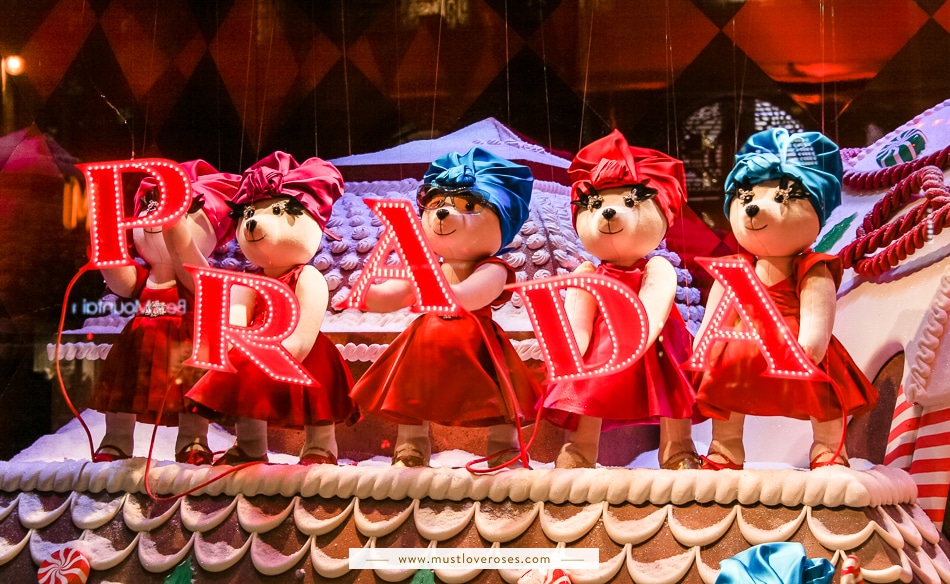 4. The Best Seasonal Foods
One of my absolute favorite things to do in Paris is sampling all the delicious food of course! Parisian chefs and bakers are second to none and seem to make everything, even a loaf of bread or an omelet, more elevated than anywhere else in the world.
Being in Paris in December means that you get to experience the amazing Parisian foods and also all the special holiday and seasonal foods as well!
Special foods not to be missed include fresh truffles (I love them with pasta), the most amazing french onion soup, special pastries, cakes, macarons, hot chocolate, and holiday meals. The hot chocolate at the beautifully decorated Angelina's is available year-round, but seem to taste even better when it's cold outside!
If you're in Paris during this time, you should at least try the fresh truffles! La Maison de la Truffe Madeleine at Place de la Madeleine (TripAdvisor reviews here) has an amazing restaurant and take-out shop with delicious sandwiches and truffles for purchase. We came home with some jars of amazing truffle salt!
If you're visiting Paris and want a local foodie's recommendations, my Parisian Instagram friend Ophelie is now available as a personal food concierge and will help you find the best places to eat based on what you like and help make the reservations even! She's also a great photographer and offers photo sessions at the beautiful photo spots that she knows so well!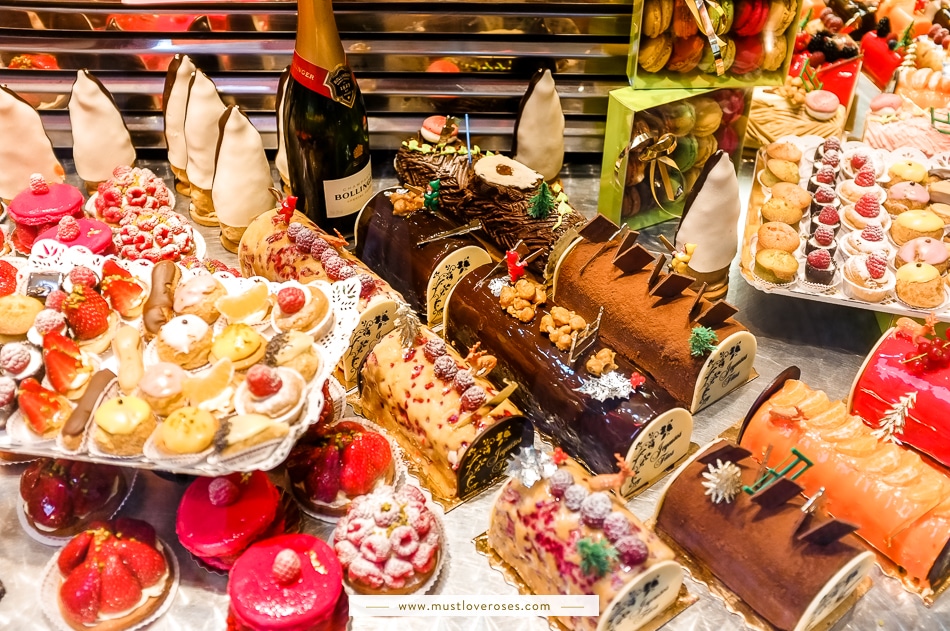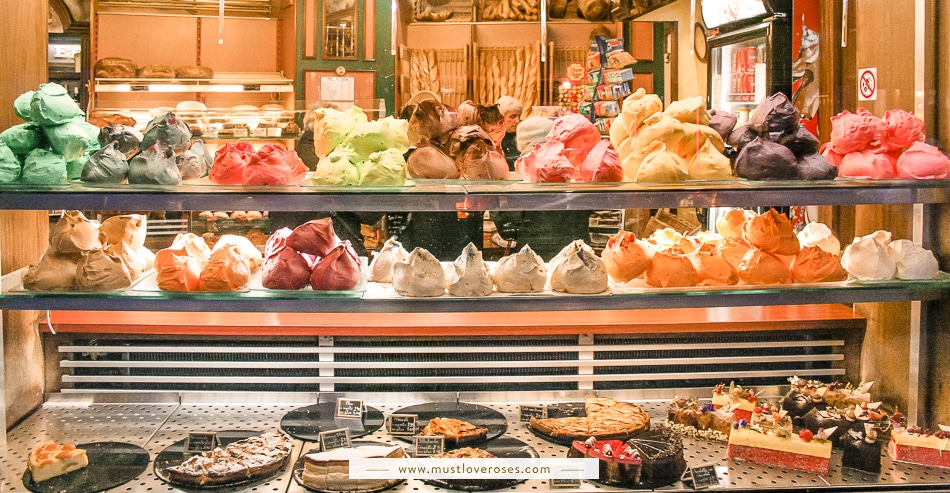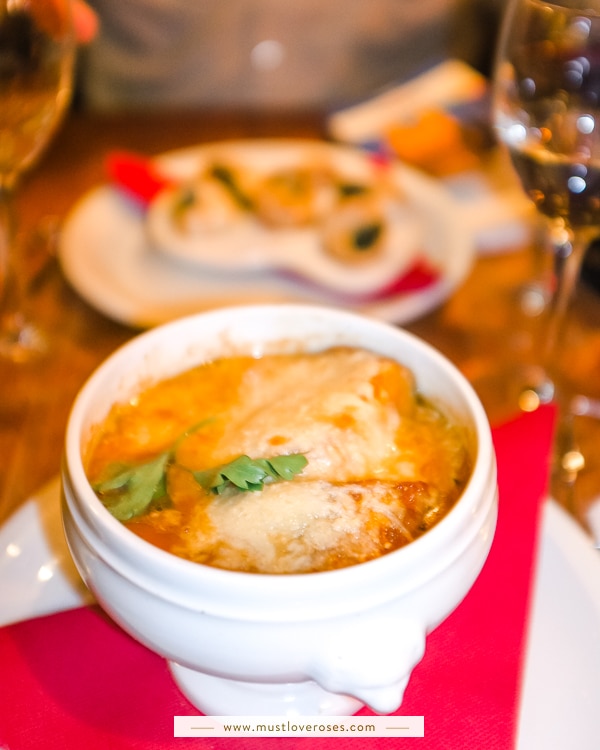 5. Magical Christmas Lights
Paris is known as the "City of Lights" and I'm certain that it must have obtained that name in December! As pretty as the city is during the daytime with all the holiday decorations, it's even more magical at night when the holiday lights come on. The city becomes a true winter wonderland and it will be worth braving the cold to see all the lights around the city!
Head to areas such as Avenue des Champs-Elysées, Avenue Montaigne, Place Vendôme, the Montmartre district, and Bercy Village to see all the spectacular lights! And don't forget to visit the Galeries Lafayette and Printemps window displays in the evening for the most adorable and enchanting little scenes ever. They're located on Boulevard Haussmann. You'll definitely need a warm coat for the cold evenings!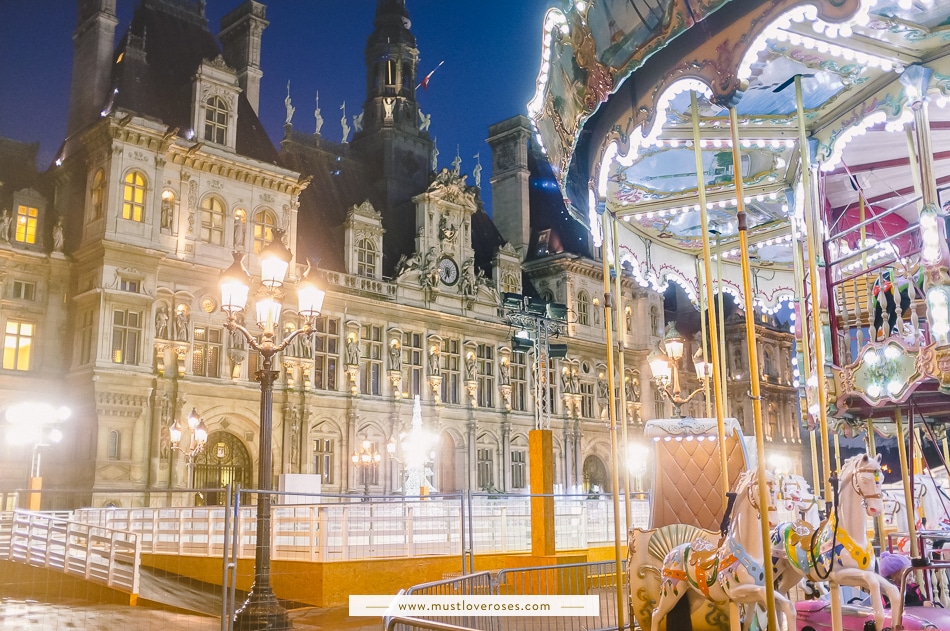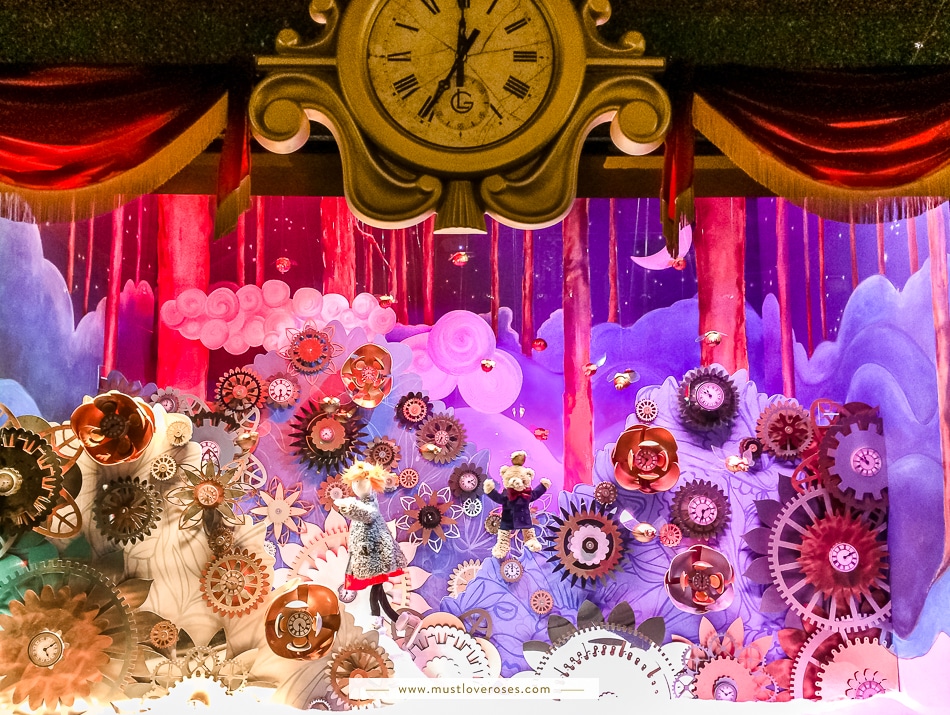 More Christmas Events in Paris
In addition to all of the decorations and foods, there are also lots of festive events in and around Paris. The Paris Visitor's Bureau has a list of events, including concerts and ice skating rinks, on their website.
Another place that I would love to visit during Christmas is Disneyland Paris which goes all out for the holidays as you can imagine!
Photography
I love photography! I have a post on the photo gear I use for travel & portraits if you're interested in the camera and lenses I use. I also have a post on my camera gear for flower photography!
My New YouTube Channel!
I recently started a new YouTube channel! If you love nature, flowers and gardens as much as I do, make sure to give me a follow there! 😊🌸🌿
Step Inside a Fairytale Rose Garden!
This secret rose garden is full of blooming roses, rose terraces, rose walls, rose pillars, and even a rose-covered gazebo straight out of a fairytale! 🌸
It's my first video for YouTube – I hope you like it! 🙂
My Holiday Gift Picks!
I own and love all of these products! ❤️
Thank You!
Thank you for stopping by my blog! I hope you found this post useful, and I hope you have a wonderful day!
Pansy ❤️
Hi, I'm Pansy!
Hello, thanks for stopping by! I'm Pansy, California-based travel blogger, photographer and lover of ALL the pretty flowers! You may notice that most of my travels, photography & DIY center around flowers and nature! 🌸🌼🌿
I recently started a YouTube channel where I feature walks through beautiful gardens, parks & flower fields! Make sure to follow me there if you love flowers & gardens! 😊
If you'd like to contact me, please send me an email or DM me on Instagram!
Pansy ❤️