It's Springtime and wildflowers are back in Northern California!! I've visited and posted about other Spring wildflowers and flower fields in California before, but lupine flower fields were not on my radar until 2021, when HUGE fields of them popped up at Folsom Lake in Folsom near Sacramento. I love flower fields, and lupines are adorable, so I had to go see them for myself of course! And wow… we were so stunned by the endless fields of purple wildflowers blanketing the ground as far as our eyes could see… what an amazing sight! On the lookout for more lupines, I found more purple lupines at Anderson Lake in Morgan Hill in the South Bay and also some joyful yellow lupine fields in the East Bay hills! In this post, I'll share where to find lupine fields in Northern California and some photos from the places that I have visited. All photos were taken by me and my husband Ken.
p.s. I recently started a YouTube channel! Please give me a follow there if you love gardens, nature & flowers too. 🌸
* This blog post may include affiliate links for which I may receive a small compensation. Learn more about my affiliate & cookies policy here. Thank you for supporting this flowery blog! 💛🌸🌿
Where to Find Lupine Flower Fields in Northern California
Large lupine flower fields are somewhat rare, but Superbloom-level lupine fields have been found in at least four places in Northern California:
Folsom Lake in Folsom (near Sacramento)
Anderson Lake in Morgan Hill in the South Bay
East Bay Hills
Bald Hills in Redwoods National Park
I've been to the first three places, but I haven't been to Bald Hills. Hopefully someday I will – I love Redwoods National Park!
When Do Lupines Bloom?
Lupines typically bloom in April and last for 2 to 4 weeks. The exact timing will vary from year to year. The pictures from Folsom Lake and Anderson Lake were taken at the end of April in 2021. The photos from the East Bay Hills were taken in early April of 2022.
Don't forget that while wildflower lupine Superblooms don't occur every year, smaller lupine fields can still be found throughout the Bay Area during the Spring blooming season!
Lupine Flower Fields at Folsom Lake
During Superbloom years, huge lupine fields can be found all around Folsom Lake. Folsom Lake is a popular recreation area located around 2 hours northeast of San Francisco and around 35 minutes northeast of Sacramento. Beeks Bight at the western side of the lake is the most popular area to see the lupines, and has been the site of many beautiful photoshoots.
2021 was a huge Superbloom year at Folsom Lake, with lupine fields blanketing the entire area! Lupines bloomed at Folsom Lake again in 2022, and even though it wasn't as extensive as in 2021, it was still very pretty, with the lake having higher water levels.
These pictures were taken at an area on the eastern side of the lake in 2021, where we were mesmerized by the huge purple lupine fields and the beautiful sunset… The lupines here were small, delicate, densely grown together, and so very fragrant…the lightly sweet fragrance enveloped the entire area and turned the flower field into a floral dreamland. There were very few people there aside from us that day, so Ken and I felt as though we landed in a secret paradise of purple flowers. What an amazing experience that we will always remember!
The vast lupine fields that we saw here rivaled the endless poppy fields that we saw at Antelope Valley in Southern California!
---
Outfit Details
Reformation linen dress – current season version here | Rag & Bone hat – similar at Nordstrom
---
These photos at the Folsom Lake lupine fields were taken with a Nikon D750 (newer model D850 available at Amazon) using my favorite 50mm lens, and an iPhone.
Lupines don't bloom at Folsom Lake every year and is a somewhat rare occurrence that happens after a drought that causes the lake waters to recede. The previously dormant wildflowers under the lake emerged after a light rain to create a "Superbloom" – a spectacular show of color and life during a drought year! It's truly an unforgettable sight to see a lake completely transform into a purple flower field!
Lupine Flower Fields at Anderson Lake in Morgan Hill in the South Bay
Anderson Lake is a large park, recreation area and reservoir in the South Bay city of Morgan Hill. In October 2020, the reservoir was drained for dam retrofitting construction work that will last until approximately 2030.
While many parts of the park were closed for recreation due to the construction work, word soon spread of a lupine wildflower field at the drained lake in the Spring of 2021, so we went to take a peek as well. And we were indeed greeted by a vast area full of purple lupines next to the former lake! The lupines here were much larger, thicker and taller than the ones at Folsom Lake – maybe because they were older. It was amazing to wander through paths surrounded by these waist-high lupine wildflowers!
These lupines were near the Woodchoppers Flat Picnic Area in the southeastern side of the lake.
Lupine Flower Fields in the East Bay Hills
In 2022, I also found brilliant yellow lupine flower fields in the East Bay hills! This is the first time I've seen yellow lupines and they are so amazing! What an amazing sight, this blanket of delicate yellow flowers, especially beautiful during golden hour (just before sunset). Which do you prefer – purple or yellow lupines? I honestly love both so much! These lupines were found along the Tassajara Ridge Trail in San Ramon in early April.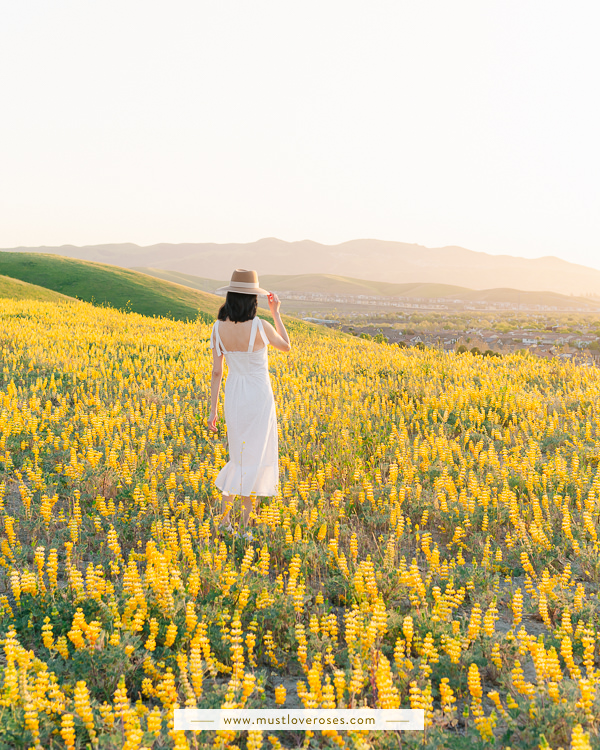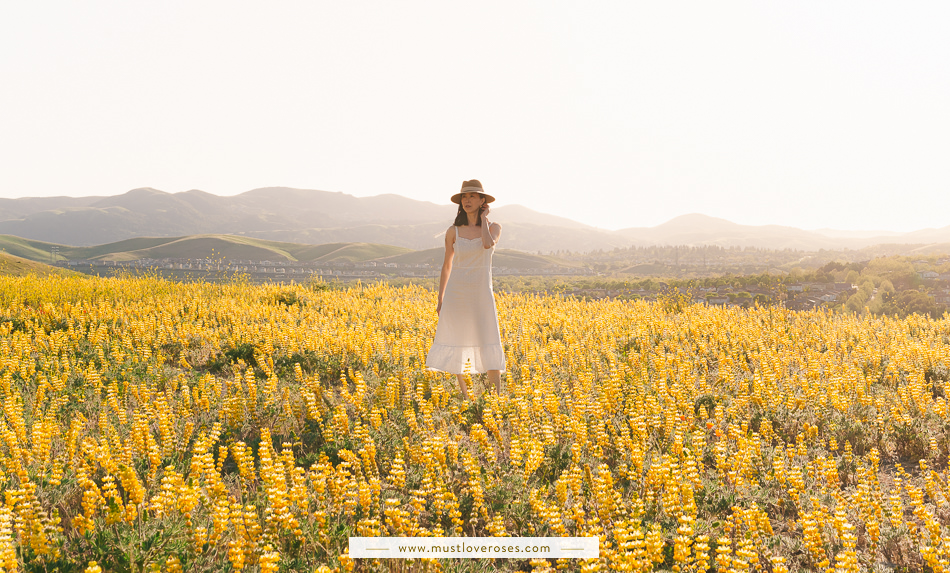 Other Places to See Lupines in Northern California
Lupine flower fields are dazzling, but even without a Superbloom, lupines can be found all over the Bay Area. Here are some places where they've been spotted:
Shell Ridge in the East Bay
Sonoma Valley
Point Reyes
Big Sur hillsides
🌸 My favorite flower books 🌸
My New YouTube Channel!
I recently started a new YouTube channel! If you love nature, flowers and gardens as much as I do, make sure to give me a follow there! 😊🌸🌿
Step Inside a Fairytale Rose Garden!
This secret rose garden is full of blooming roses, rose terraces, rose walls, rose pillars, and even a rose-covered gazebo straight out of a fairytale! 🌸
It's my first video for YouTube – I hope you like it! 🙂
My Holiday Gift Picks!
I own and love all of these products! ❤️
My camera & video gear
Photo tip: You can get a free trial or extend your current subscription of an Adobe Creative Cloud Photography Plan with the purchase of a Seagate external hard drive!
Most of the photos on this blog through 2022 were taken with a Nikon D750 (latest model D780 shown above).
My favorite lens ever. This Nikon 105mm lens is amazing for portrait & flower photography. An 85mm lens would be great also.
Thank You!
Thank you for stopping by my blog! I hope you found this post useful, and I hope you have a wonderful day!
Pansy ❤️
Hi, I'm Pansy!
Hello, thanks for stopping by! I'm Pansy, California-based travel blogger, photographer and lover of ALL the pretty flowers! You may notice that most of my travels, photography & DIY center around flowers and nature! 🌸🌼🌿
I recently started a YouTube channel where I feature walks through beautiful gardens, parks & flower fields! Make sure to follow me there if you love flowers & gardens! 😊
If you'd like to contact me, please send me an email or DM me on Instagram!
Pansy ❤️