If you live in the San Francisco Bay Area and love cherry blossoms as much as I do, you may be surprised that you can enjoy them right here every Spring, even if you can't go to Japan or Washington, D.C.! To be sure, they aren't nearly as plentiful here as they are in Japan, where they are literally planted everywhere, but there's enough for you to be able to enjoy these Springtime blossoms and participate in your own mini Hanami if you want. In case you're not familiar with Hanami, it's the Japanese custom of flower viewing every Spring, when friends and families enjoy picnics together while appreciating the spectacular but fleeting blooms! In this post, I'll share with you my favorite places to see cherry blossoms in both San Francisco and the Bay Area!
I've posted a video of Spring flowers at Filoli on YouTube and also some video clips of cherry blossoms at the Japanese Tea Garden, Filoli, and San Ramon (cherry blossom playlist here). Give me a follow there if you're interested in flowers and gardens! 🌸
* This blog post features some affiliate links. Learn more about my affiliate policy here. Thank you for your support! 💛🌸🌸
When Do Cherry Blossoms Bloom in the Bay Area?
Cherry blossoms are beautiful but fleeting, blooming for only around two or three weeks. In California, they typically bloom between mid-February to early May. The bloom time depends on the type of cherry blossom tree, and also the temperature and weather.
Based on my observations, these are the approximate bloom times for cherry blossoms in the Bay Area:
Mid-to-late February: San Ramon, Berkeley
Mid-March to Mid-April: Filoli, Japanese Tea Garden, Hakone Gardens
Late April to Early May: Palace of Fine Arts, Golden Gate Park's Lindley Meadow, the Presidio
Because of their short blooming period, sakura (the Japanese term for cherry blossom trees) blooms have traditionally symbolized the fleeting nature of beauty and life itself for Japanese people. The blooms remind us to truly and fully enjoy the beauty of life while we can! Because of this, I've always viewed cherry blossoms both with rapture and with a bit of wistfulness, knowing that they will be gone soon. But thankfully, there are always photographs to remind us of their beauty!
What Type of Cherry Blossom Trees Grow in the Bay Area?
The types of cherry blossom trees that can be grown in an area depends on the climate. Here in the Bay Area and most of Southern California, the climate is more suitable for the Kwanzan cherry trees, which have an upright shape, than for the weeping cherry trees that form a dramatic arching cascade of flowers. However, you can still find some weeping cherry trees here, such as at Filoli.
The Best Places to See Cherry Blossoms in the Bay Area
Here's a summary of the best places to see cherry blossoms in the Bay Area, with details below.
Filoli Historic House & Garden in Woodside
Japanese Tea Garden in Golden Gate Park in San Francisco. Also in Golden Gate Park – Lindley Meadow & the San Francisco Botanical Garden.
Palace of Fine Arts in San Francisco
City of San Ramon
Hakone Estate Gardens in Saratoga
City of Berkeley
Japantown
Cherry Blossoms at Filoli
Filoli is a spectacular garden in Woodside with multiple types of cherry blossoms blooming at different times throughout March and April. I have visited Filoli three times already this Spring, because it's now my favorite garden in the Bay Area, and it has my vote for the prettiest Spring Garden in Northern California (maybe all of California?)!! And yes, it's my favorite place to see cherry blossoms in the Bay Area!
Filoli has both Kwanzan and weeping cherry blossoms that start to bloom in March. When I first visited in early March, the large weeping cherry blossoms were blooming in the walled garden. The second time we visited in late March, the ones in the daffodil field were blooming. The third time I visited, on April 19, the weeping cheery blossoms at the garden entrance (the clock tower area) and multiple other cherry trees in the walled garden were blooming (see my video clip on YouTube). The garden is sooo pretty in April with the cherry blossoms, tulips and so many colorful Spring flowers blooming at the same time!
I've uploaded a walk-through at Filoli on YouTube showing you all the Spring flowers like cherry blossoms, tulips & daffodils!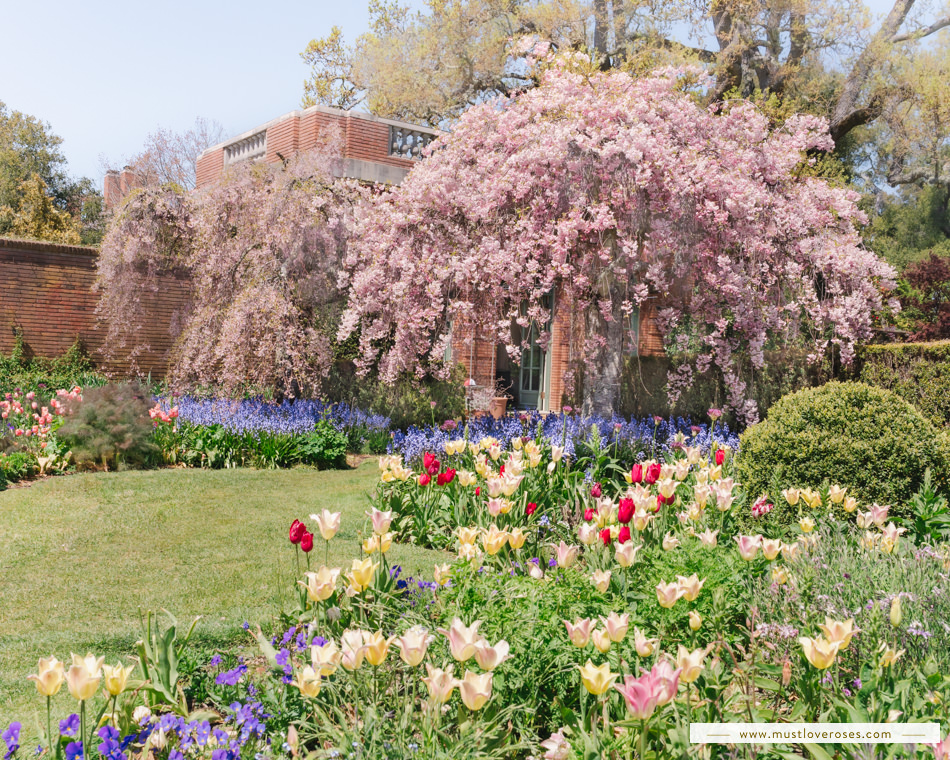 Filoli Historic House & Garden is an estate and garden located in Woodside, approximately 30 minutes south of San Francisco by car. The 16-acre garden has beautiful flowers in bloom all year long.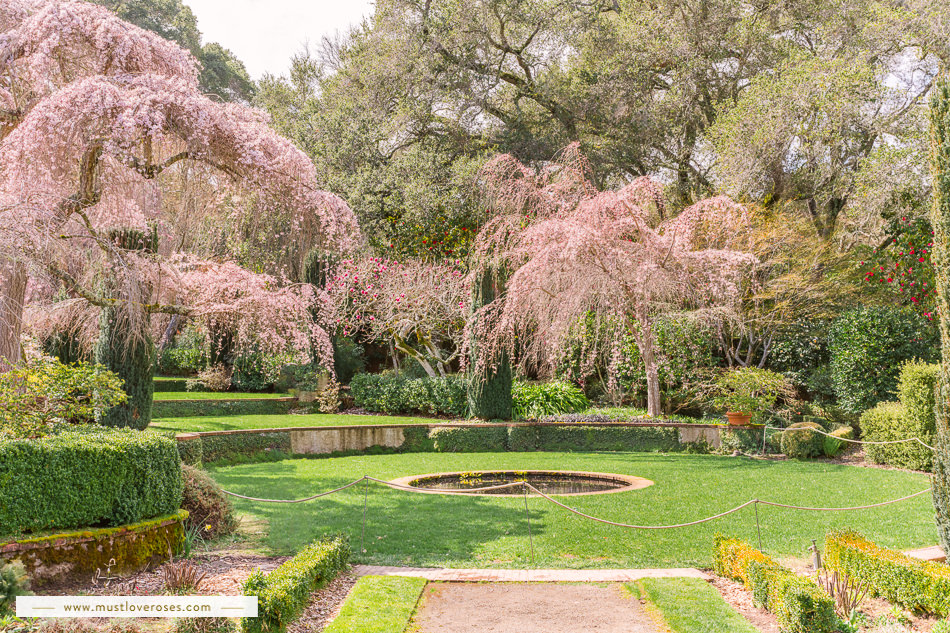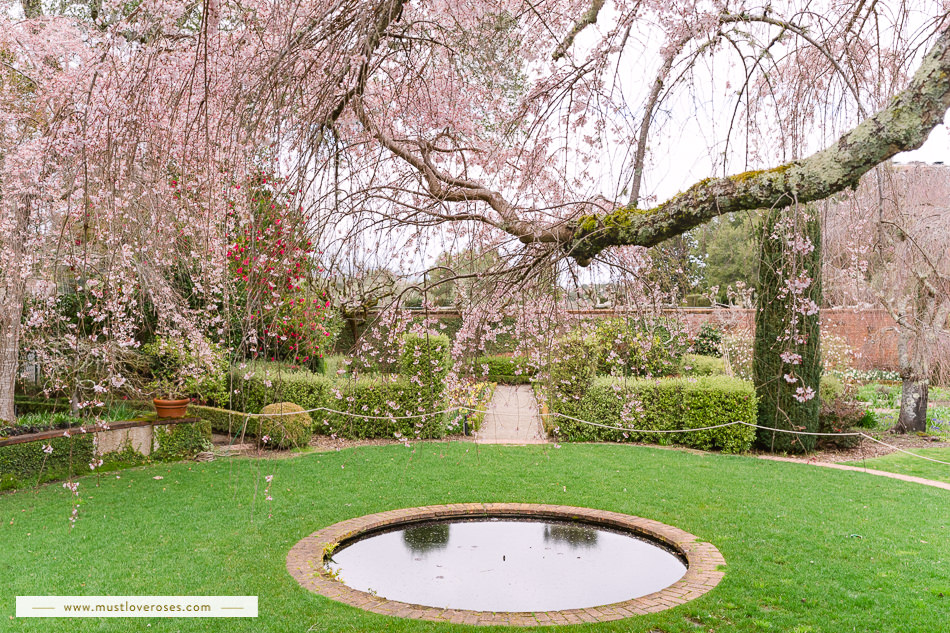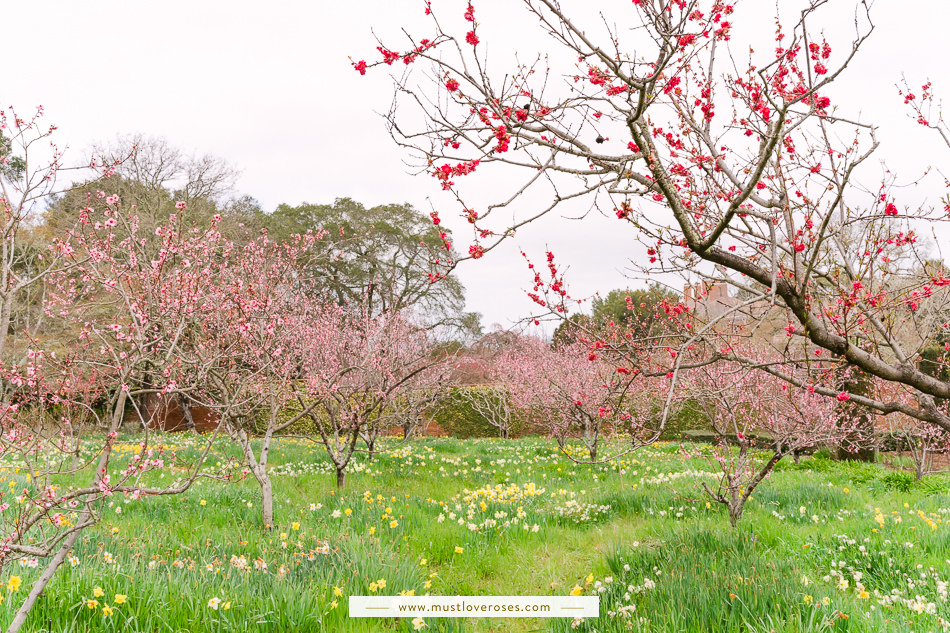 Cherry Blossoms at the Japanese Tea Garden
What better place to enjoy the beauty of cherry blossoms, which are native to Japan, than at a traditional Japanese garden? The Japanese Tea Garden inside Golden Gate Park has several stunning mature cherry trees right near the front entrance, and more throughout the garden. (There are also a number of them outside next to the entrance and around the corner.) The scene just past the entrance, with the tea house in the background and a pond with a small waterfall framed by a large blooming cherry blossom tree in front, is so beautiful that there's often a traffic jam there! The garden is very pretty this time of year, with many other colorful flowers in bloom as well. It's definitely worth a visit, but be prepared for long lines and some crowds, especially during the weekends. Also, don't miss the many koi fish in the ponds founds throughout the garden – I love watching them swim around the waters!
I've posted a video clip of the cherry blossoms on my new YouTube channel and I'll be posting a garden walk-through soon, so give me a follow if you're interested!
The Japanese Tea Garden is the oldest public one in the United States and has a high arching drum bridge, a five-story pagoda, koi ponds, a Zen Garden and many mature trees within 5 acres. There's also a tea house where you can enjoy a traditional tea or even a green tea latte while enjoying the beautiful view!
The cherry blossoms typically bloom at the Japanese Tea Garden in March-April.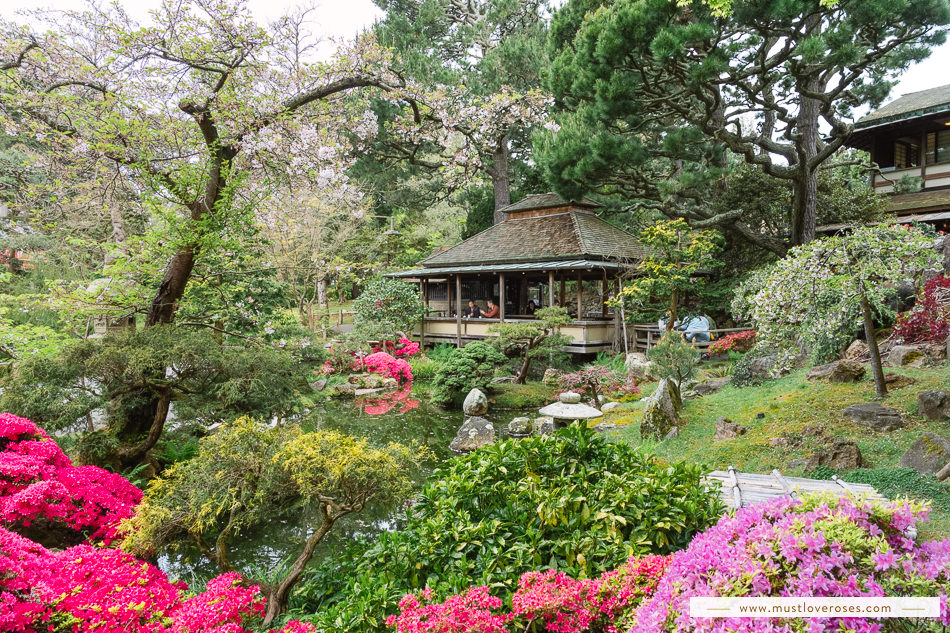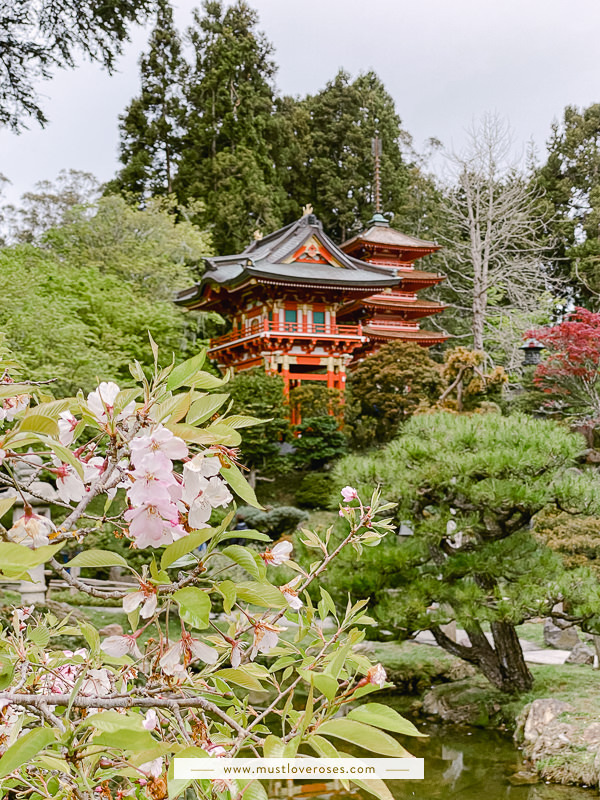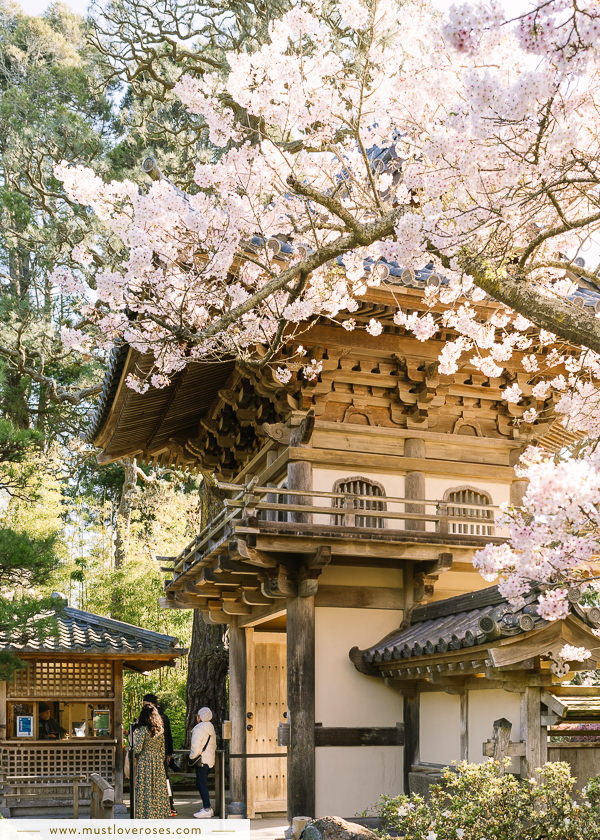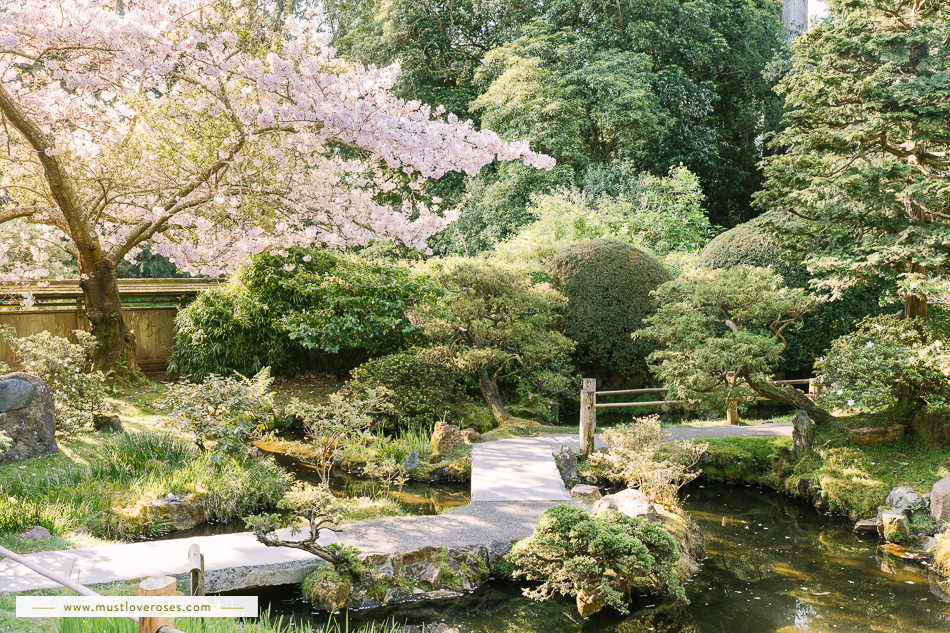 Cherry Blossoms Inside Golden Gate Park
Cherry Blossoms can be found throughout Golden Gate Park! The best part is that there are several different varieties that bloom at different times so they can be enjoyed for a longer time during the Spring.
Cherry Blossoms at the San Francisco Botanical Gardens
Located right next to the Japanese Tea Garden is the San Francisco Botanical Gardens, where you can find some cherry blossoms within the Jean Wolfe White Garden. Spanning a huge 55 acres, the garden is home to over 8,000 types of plants, trees, and flowers.
This garden is also my favorite place to see spectacular magnolias in February. There are over 200 of them here! You can see some photos of these magnolias on my blog post here.
Cherry Blossoms at Lindley Meadow
Located inside Lindley Meadow in Golden Gate Park is a small grove of seven lovely pink cherry blossom trees that bloom in late April to early May. I love to stroll under the shade of these trees and admire the blooms in the Spring. There's a picnic table nearby so you can enjoy lunch with family and friends too. You can enter Lindley Meadow from Fulton Street and 30th Ave.
The photos below were taken on May 1, 2022.
Cherry Blossoms at the Hakone Estate Gardens in Saratoga
Another place to see cherry blossoms is at a beautiful 18-acre Japanese garden located in the South Bay – the Hakone Estate Gardens in Saratoga. Here you'll find dozens of cherry blossom trees as you arrive just outside the entrance. The setting here is just beautiful and even more special with the pink and white sakura blooms. This garden was originally a private estate and is now open to the public. It features a variety of gardens, multi-tiered waterfalls and koi ponds, a dry garden, a bamboo garden, and more.
The cherry blossoms here usually bloom in March-April.
Cherry Blossoms in the City of San Ramon
In the Bay Area, most cherry blossom trees are planted in either small groups, or as a single tree to brighten the landscape. But if you want to see cherry blossom trees planted in mass, there's actually a place where you can find rows and rows of them planted together! This place is in the suburban city of San Ramon. This East Bay suburb has so many cherry blossom trees that I've been referring to it as the cherry blossom city!
The trees seem to be planted all over the city, and you'll start seeing them as soon as you exit the freeway. They can be found in long rows all along Bolinger Canyon Road (including a popular spot in front of the Dougherty Station Library), next to many residential and commercial buildings, and also in front of the San Ramon Community Park. Many of them on Bolinger Canyon Road are planted in rows of three. How absolutely delightful that this city has decided to plant so many of these beautiful trees!
Here's a link to one of the three video clips that I've posted on YouTube of the cherry blossoms in the area!
Despite the fact that many of the trees are planted next to a main road that can be very busy during commute hours, it doesn't take away from the beautiful effect of so many pink blossoms blooming together! Also, please note that the cherry trees planted next to Bolinger Canyon Road are not located in a park and are not suitable for picnics.
Cherry Blossoms at the Palace of Fine Arts
The Palace of Fine Arts is another one of my favorite places to see cherry blossoms in San Francisco, because I love visiting the Palace of Fine Arts any chance I get! There are cherry blossom trees located throughout the area, including just outside and also inside the Palace of Fine Arts. The soft pink blooms look so amazing against the beautiful classical columns here – it's no surprise that they're a popular wedding background in the Spring! The following three pictures were taken on May 1, 2022 (and yes, we did see a wedding in progress on that day!)
Cherry Blossoms in the City of Berkeley
February 11, 2023 update – I've added the City of Berkeley to the list of places to see cherry blossoms! Ken and I drove through the city 2 days ago and saw both cherry blossoms and magnolia trees in full bloom! I've known about the beautiful magnolia trees in the area for awhile now (see my post of where to find magnolias in the Bay Area) but didn't know about the cherry blossoms.
Specifically, we saw a row of them at the Dorothy Bolte Park in the northern part of the city as we were exiting Tilden Park. They are located right next to the street, and there's also a giant flowering magnolia tree across the street, next to the Acacia Steps. There are magnolia trees and cherry blossoms located throughout the city! The climate in the Berkeley/Oakland area is great for plants.
I've also recently read about a small grove of 35-40 cherry blossom trees at the west entrance to UC Berkeley, on University Drive near Oxford Street. They were planted there in 2013 in to honor university alumni of Japanese ancestry. I'm looking forward to seeing these beautiful trees myself at my alma mater! 🙂🌸🌸
Cherry Blossoms at Japantown
Japantown is where the annual Cherry Blossom Festival is held every year and is also home to several streets with cherry trees. A great place to start is at the Peace Plaza, located between the East and West Malls, where there is a row of cherry blossom trees. As you walk around the area, you'll likely notice more pink blooms scattered about!
Other Places to See Cherry Blossoms in San Francisco
Once you're aware of the beautiful cherry blossoms blooming, you'll probably start noticing more of them as you travel around the city. Some place I've seen them include the Presidio, the Sue Bierman Park near the Embarcadero, at Alamo Square Park located next to the historic Queen Anne homes, and in front of various apartment buildings and homes.
The Best Places to Enjoy a Picnic or Mini Hanami in the Bay Area
If you want to enjoy a picnic with friends and family while enjoying cherry blossoms in the Bay Area, I would say that the best places to do that are at the Palace of Fine Arts or at Golden Gate Park's Lindley Meadow, both of which have grassy lawn areas for picnicking. The Palace of Fine Arts is a beautiful setting to walk around and enjoy as well. (But please note that if you drive and park there, you should take care to remove all valuables from your car due to recent high levels of car break-ins in the area…)
If you live near Berkeley, Dorothy Bolte Park, a smaller neighborhood park, has a few very pretty cherry blossom trees that bloom in February and is also suitable for a picnic.
The gardens that have cherry blossoms have refreshments for sale, but typically do not allow picnics inside. The other public places listed that have cherry blossoms are not public parks and typically don't have a large enough grassy area for picnics.
Cherry Blossoms Beyond the Bay Area
Cherry Blossoms at Descanso Gardens in Southern California
When Ken and I visited Southern California a couple years ago during our SoCal Spring Flowers & Gardens tour, we very much enjoyed Descanso Gardens, a delightful garden near Los Angeles. We saw some cherry blossoms and magnolia trees there inside their beautiful Japanese Garden, in addition to lots of tulips!
Cherry Blossoms in Sacramento
In Sacramento, a grove of 28 cherry blossom trees ("The Sakura Grove") was planted at Southside Park on October 28, 2018 to recognize the contributions Japanese Americans have made to Sacramento. The Southside Park neighborhood was once the home of many Japanese families that were displaced during the WWII internments.
In addition, a new park called The Hanami Line is being planned along the Sacramento River, featuring a massive planting of flowering cherry trees!
Cherry Blossom Photography
As with many other beautiful Spring blooms, cherry blossoms are short-lived, blooming for only around two weeks or so. But if you capture them on camera, you can enjoy them year-round! If you want to capture the beauty of these small flowers, make sure to bring a macro lens with a long focal length. For Springtime portraits with your friends or just for yourself, I recommend a 50mm prime lens. My favorite lens for cherry blossom photos is my Nikon 105mm macro lens. I have written a post on flower photography for situations like these if you're interested!
If you can't tell, my life muse is beautiful flowers and most of my travels, photography subjects and DIY projects are related to flowers! 🙂🌸🌸
Spring Flowers Similar to Cherry Blossoms
If you love cherry blossoms, you may also be interested in other similar Spring blooms such as peach blossoms and magnolias in the Bay Area! They are both also very stunning and beautiful! You can see my photos and posts here:
Beautiful Peach Blossoms in the Bay Area
Where to Find Magnolias in the San Francisco Bay Area
Step Inside a Fairytale Rose Garden, So Beautiful in the Spring!
Come explore a secret rose garden with me, full of blooming roses, rose terraces, rose walls, rose pillars, and even a rose-covered gazebo straight out of a fairytale! 🌸
It's my first video for YouTube – I hope you like it! 🙂
My current favorites from amazon! 💛🌸🧡
Thank You!
Thank you for stopping by my blog! I hope you found this post useful, and I hope you have a wonderful day!
Pansy ❤️
Hi, I'm Pansy!
Hello, thanks for stopping by! I'm Pansy, California-based travel blogger, photographer and lover of ALL the pretty flowers! You may notice that most of my travels, photography & DIY center around flowers and nature! 🌸🌼🌿
I recently started a YouTube channel where I feature walks through beautiful gardens, parks & flower fields! Give me a follow there if you're interested! 😊
If you'd like to contact me, please send me an email or DM me on Instagram!
Pansy ❤️