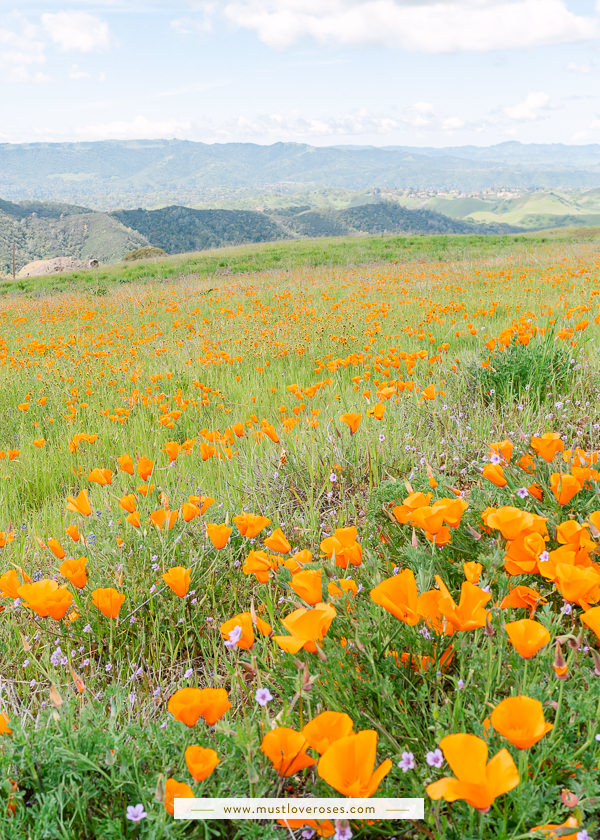 Once upon a time, I drove hundreds of miles to Southern California from the Bay Area to chase Superbloom poppy fields, sad that we don't have similar large poppy fields in Northern California. Then I discovered that there are, in fact, spectacular fields of bright orange poppies right here in the Bay Area! This semi-secret location usually also has beautiful blue skies and spectacular mountain-top views, making it a glorious vision of Spring! This amazing place is Mount Diablo State Park in the East Bay! Ever since I discovered that this East Bay treasure has its own Superbloom of wildflower poppy fields almost every year, I've been back to visit often. In this post, I'll share the best place and the best time to see these spectacular poppy wildflower fields in the Bay Area!
* This blog post may include affiliate links. Learn more about my affiliate & cookies policy here. Thank you for supporting this flowery blog! 💛🌸🌿
Poppies and Wildflowers at Mt Diablo State Park
After seeing the amazing poppy fields at Antelope Valley in Southern California, I started doing some wildflower hunting and research, and I struck wildflower gold when I found out that Mt Diablo State Park in Walnut Creek in the East Bay has a Superbloom almost every Spring! When I headed up there to see for myself, I found that not only were there multiple areas covered with bright orange poppies, but there were many other types of wildflowers throughout the park as well. All from the highest mountain in the area with sweeping views of the Bay Area below. Even better, the flower fields are accessible to visitors who are short on time since many of these wildflower fields, including those pictured in this post, are right next to the main road!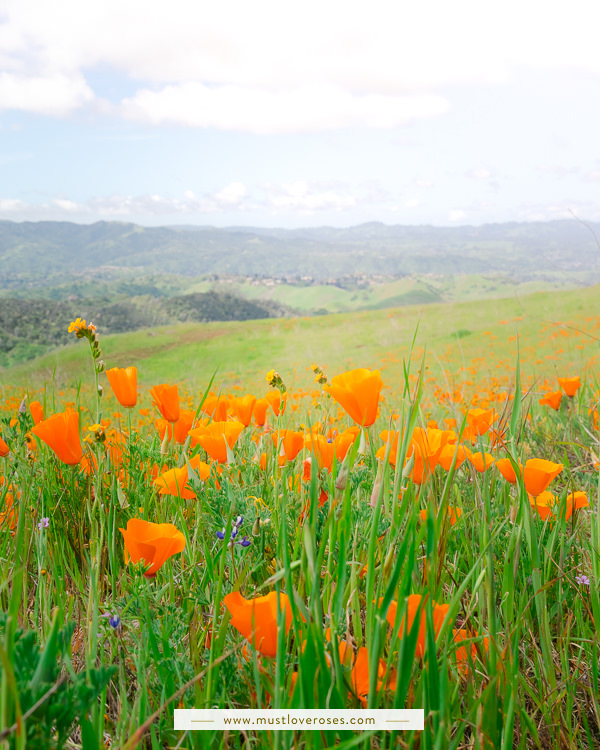 When to See Poppies at Mt Diablo State Park
Unlike some Superbloom flower fields (such as this one at the Carrizo Plain that we visited a couple years ago), poppies and many other Spring wildflowers bloom at Mt Diablo State Park every year! According to the local tourism agency Visit TriValley, Mt Diablo State Park is home to "endless fields of California Poppies, Daffodils, Dove Lupine, and dozens of other varieties of wildflowers" even on years when there isn't a Superbloom. Depending on the timing and amount of rainfall during the winter, poppies and other wildflowers typically show up at the park between March and May.
From my past visits and observations, the size and location of the poppy fields can also vary each year. There wasn't a Superbloom of poppies there in 2022, but there was one for several years in a row before that. This year (2023), we saw large fields of poppies in April! The fields of orange flowers and the stunning mountain-top views make for such a beautiful combination! Most years, the flowers last for several weeks, so we try to go see them a couple of times each year if possible.
The following pictures were taken during the 2021 Superbloom, on a beautiful clear Spring day with perfect white clouds. Of course, we brought our beloved Nikon D750 full-frame camera (the mirrorless model equivalents is the Nikon Z7II) with us to capture these pictures! I brought my favorite 50mm and 105mm lenses to capture both portraits and close-up flower pictures. I have a full post on flower photography if you're interested in learning more.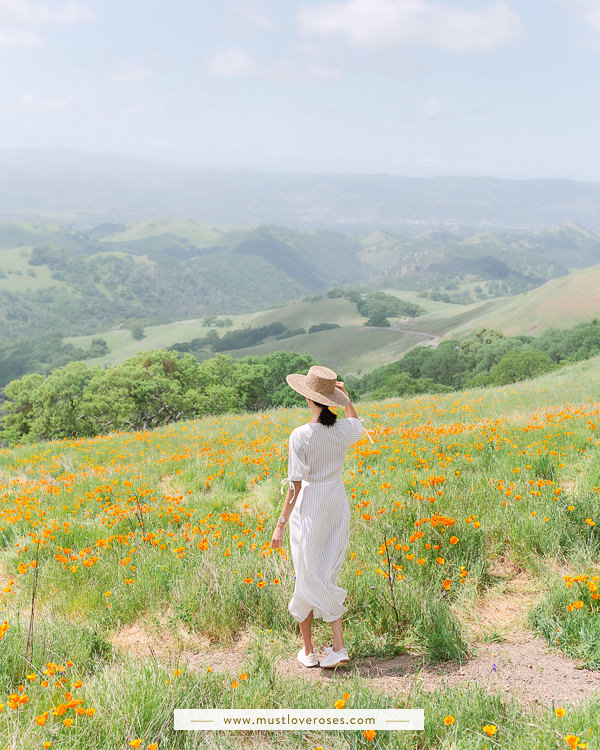 Where to Find the Poppy Fields in Mt Diablo State Park
Poppy fields and other wildflowers have been reported throughout Mt Diablo State Park, including along North Gate Road, the area around the Summit Visitor Center, Rock City, the road past the South Gate Entrance, and the Mitchell Canyon – Eagle Loop.
All of the pictures on this post were taken along North Gate Road leading to the Summit Visitor Center, entering from the North Gate Entrance. Within 5 minutes past the entrance, we started to see hillsides dotted with bright orange poppies, with many more within 15-20 minutes past the entrance. It was so tempting to stop every time we saw poppies! The best spots have both poppy fields and panoramic views. Please note – it does tend to get windy up there even on sunny days, so hang on to your hat! Otherwise, you may end up chasing after it like I did!
If you want to continue exploring the area, the entire drive from the North Gate Entrance to the Summit Visitor's Center takes approximately 40 minutes (without stops), and much of the road is very twisty and curvy. As I mention in my Most Beautiful Spots in Big Sur post, if you're prone to car/motion sickness as I am, I recommend getting a good night's sleep, having a hearty breakfast, and avoid looking at the phone if you're a passenger. I also use a motion sickness wrist band, which helps me a lot.
For more information on wildflowers at Mt Diablo State Park, including a "What's Blooming Now" report, head over to the Mt Diablo Interpretive Society's website.
By the way, if you love flowers as much as I do, you might be interested in my post on the Most Beautiful Flower Books – it's one of my most popular posts!
About Mount Diablo State Park
Mt Diablo State Park is a huge park in the San Francisco East Bay. Huge as in over 20,000 acres! It has spectacular panoramic views of the Bay Area at the Summit Visitor's Center and also from the road up to the summit. On a clear day, visitors can see for hundreds of miles from the peak of Mount Diablo.
The park is located in Walnut Creek, about 28 miles east of San Francisco. It's a 40-minute drive from San Francisco to the North Gate Entrance of the park without traffic. Please check the park website for current status before going.
The vehicle entrance fee is $10.00 for the North Gate Road Entrance, or free if you have the California State Parks annual pass.
Mt Diablo State Park's Fascinating History
Mount Diablo has a fascinating history as a sacred place for Native Californians. It was historically home to many tribes and was recognized as the birthplace of the world (!). It's believed that most of those who lived in the area a couple of centuries ago made a trip here as a pilgrimage at some point in life. Learning this history of the mountains makes this place feel even more special to me!
Learn more about the park from the State Parks website and from Wikipedia.
California Spring Travel
If you're looking for more California Spring travel ideas, check out my posts on the Most Beautiful Spots in Big Sur, the Purple Ice Plants of the Monterey Peninsula, and the spectacular Flower Fields of Carlsbad Ranch!
All of my California travel posts are here!
🌸 My favorite flower books 🌸
My New YouTube Channel!
I recently started a new YouTube channel! If you love nature, flowers and gardens as much as I do, make sure to give me a follow there! 💛 I've included one of my videos below. 😊🌸🌿
Step Inside a Fairytale Rose Garden!
This secret rose garden is full of blooming roses, rose terraces, rose walls, rose pillars, and even a rose-covered gazebo straight out of a fairytale! 🌸
It's my first video for YouTube – I hope you like it! 🙂
My current favorites from Amazon! 💛🌸🧡
Thank You!
Thank you for stopping by my blog! I hope you found this post useful, and I hope you have a wonderful day!
Pansy ❤️
Hi, I'm Pansy!
Hello, thanks for stopping by! I'm Pansy, California-based travel blogger, photographer and lover of ALL the pretty flowers! You may notice that most of my travels, photography & DIY center around flowers and nature! 🌸🌼🌿
I recently started a YouTube channel where I feature walks through beautiful gardens, parks & flower fields! Make sure to follow me there if you love flowers & gardens! 😊
If you'd like to contact me, please send me an email or DM me on Instagram!
Pansy ❤️